Located just east of Scarborough Town Centre and a block north of the McCowan RT station, the Consilium Place lands are currently home to three office towers covering about half the site, and surface parking lots that cover the rest. Developer Kevric has recently submitted updated applications to the City of Toronto for a multi-phased development on the north end of the site. Located at 5 Corporate Drive, the first phase of four proposed new buildings would bring a two tower, mostly residential complex.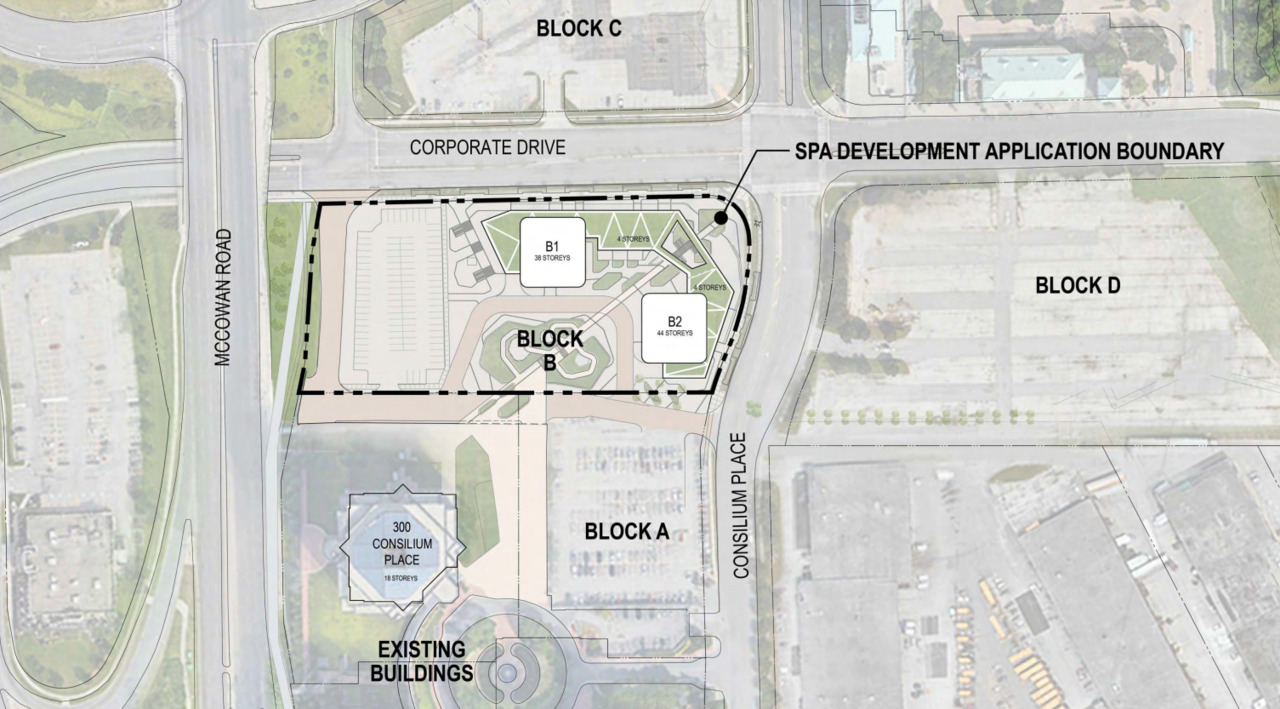 Site Plan for 5 Corporate Drive, designed by WZMH Architects for Kevric Developments
With zoning in place, Kevric first submitted a Site Plan Approval application to the City of Toronto in December, 2019. Designed by WZMH Architects, the towers were proposed at 38 storeys/116 metres, and 44 storeys/134 metres tall, with wraparound balconies.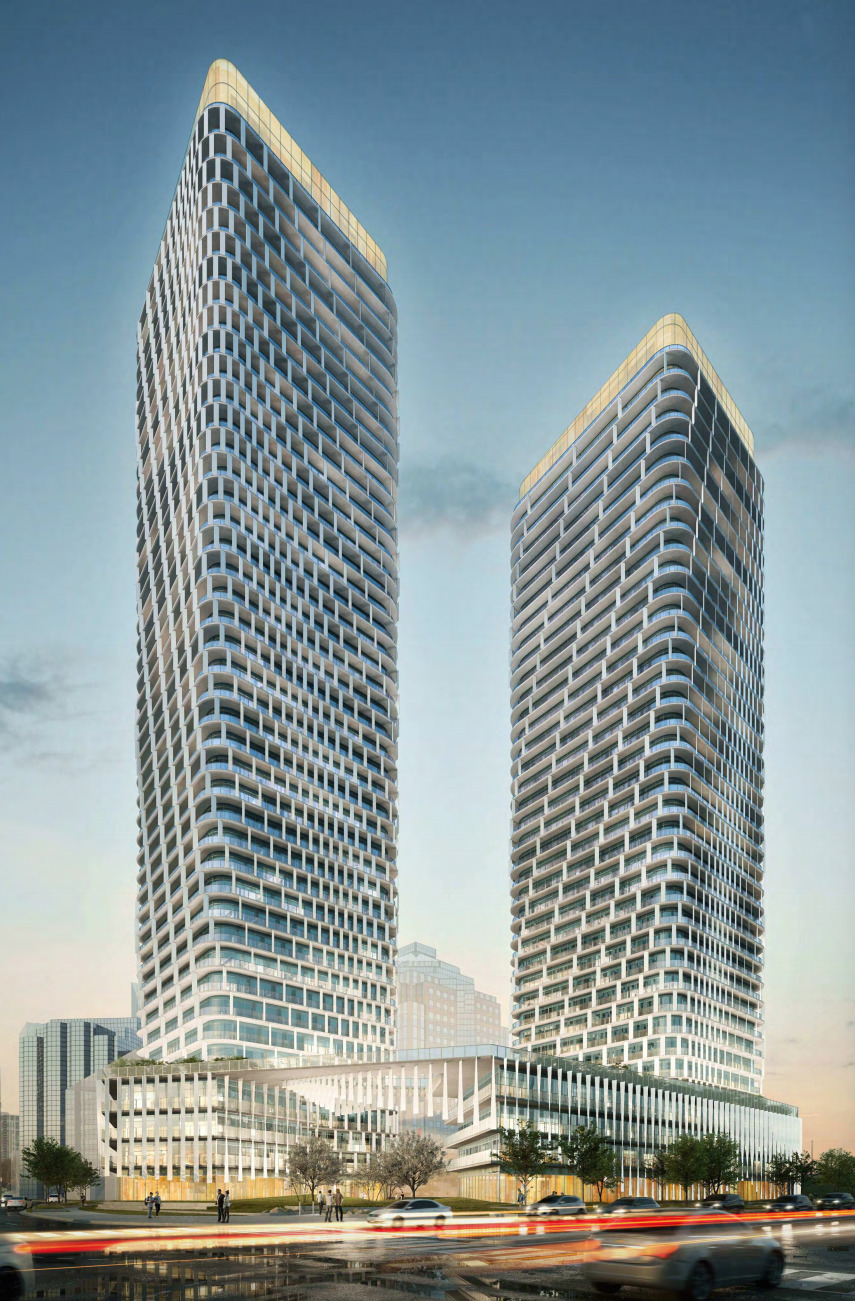 December, 2019 proposal for 5 Corporate Drive, designed by WZMH Architects for Kevric
Following feedback from City staff and an initial Design Review Panel meeting in May, 2020, plans were revised in July, 2020. Following a second Design Review Panel appearance in September, 2020, the plan was revised again in October, 2020. The towers now have floor plates that have been reduced in size to conform to the City's 750 m² guidelines, while the wraparound balconies have been replaced by undulating balcony profiles which allow the towers to respect the City's 25 metre separation distance guideline.
The towers are still proposed at the same number of storeys, but each is now taller to allow more efficient HVAC equipment to be installed in the mechanical penthouses, so the heights are now 38 storeys/128.45 metres, and 44 storeys/146.5 metres tall.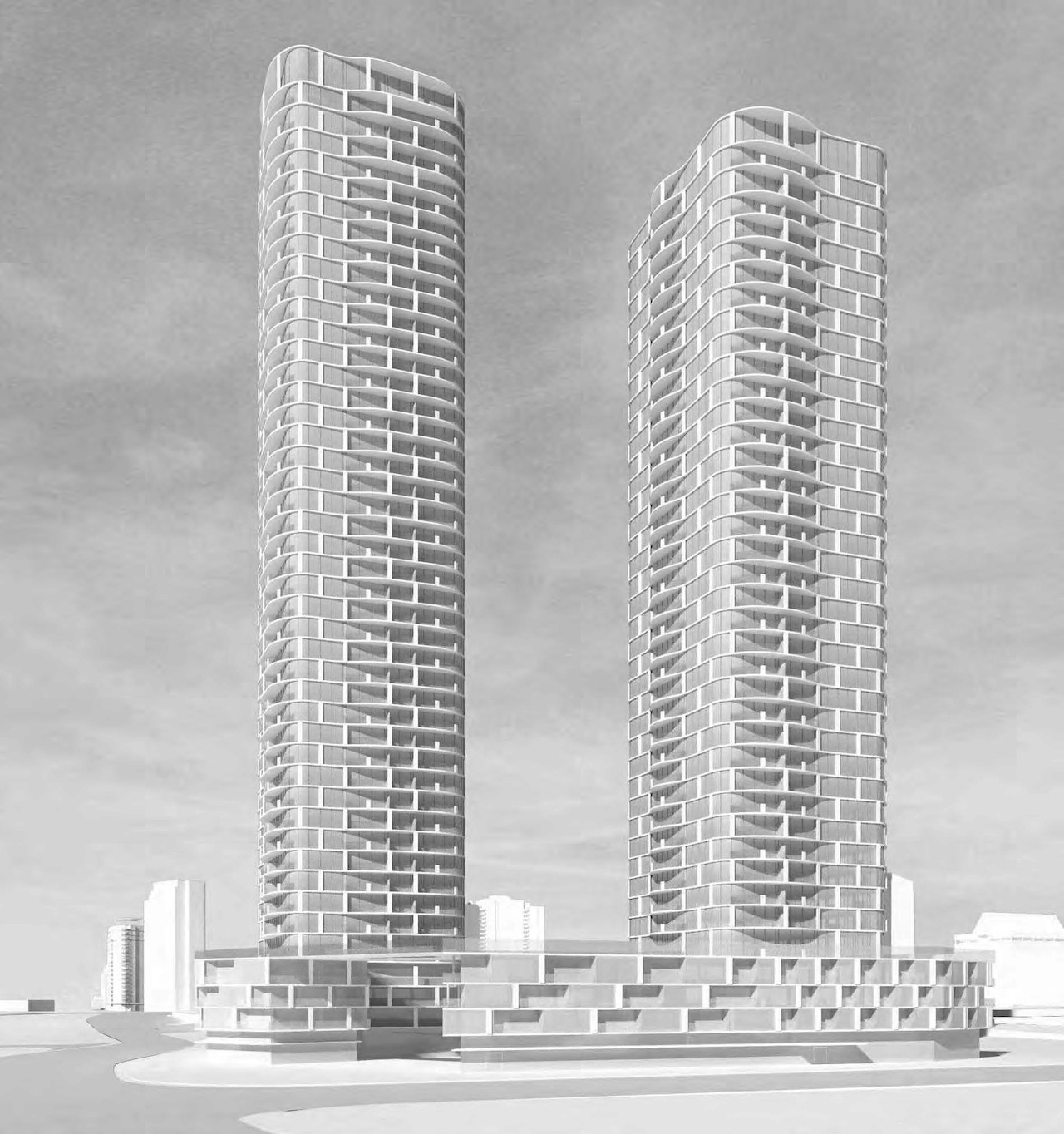 Looking southwest to 5 Corporate Drive, October, 2020 version designed by WZMH Architects for Kevric
The towers rise from a shared 4 storey podium. Other than for 787 m² of retail space at ground level, the podium and towers would house a total of 778 rental apartments in a mix of 44 studios, 272 one-bedrooms, 422 two bedrooms, and 40 three bedrooms. A two-level underground garage would house 539 parking spots; 447 designated for residents, 83 for residential visitors, and 8 for retail. There would also be 684 bike parking spots, with 55 short term spaces and 629 long term spaces. Landscaped grounds designed by Studio TLA would link the site to the existing office buildings at 100, 200, and 300 Consilium Place.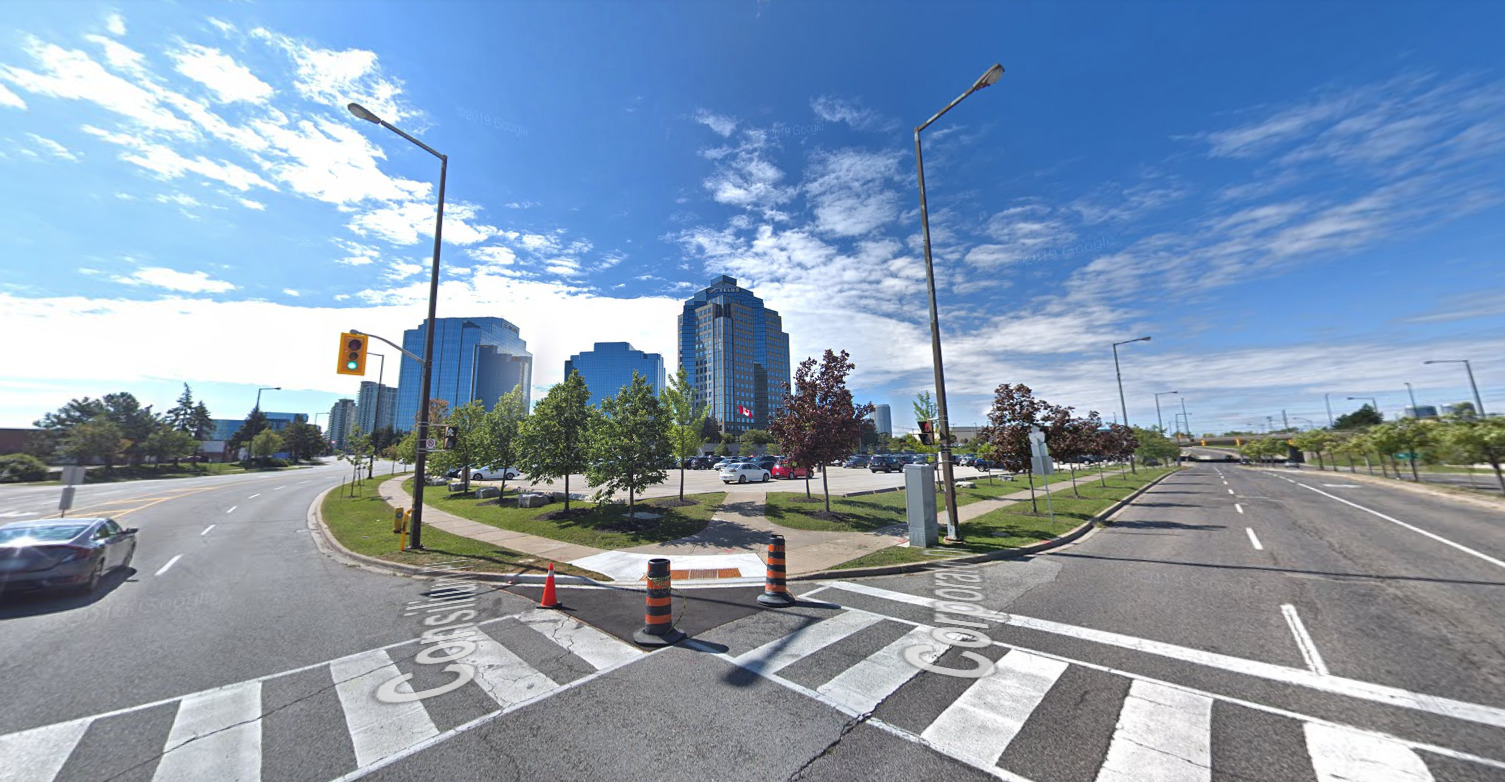 Looking southwest of across the site towards Consilium Place Block B, image retrieved from Google Street View
Additional information and images can be found in our Database file for the project, linked below. Want to get involved in the discussion? Check out the associated Forum thread, or leave a comment in the space provided on this page.
* * *
UrbanToronto has a new way you can track projects through the planning process on a daily basis. Sign up for a free trial of our New Development Insider here.