Plans for East Junction Condos continue to move forward, despite the developer having cancelled the first version of the project in February, 2020, saying it was "unable to obtain financing." Limen Developments is now marketing a new version of the project, and held a Community Consultation this past November, having submitted that month updated architectural drawings and reports to illustrate slight massing revisions, for the purpose of issuance of a Final Order for the OPA and Zoning. (The project gained conditional zoning approval at the Local Planning Appeal Tribunal (LPAT) in December, 2018.)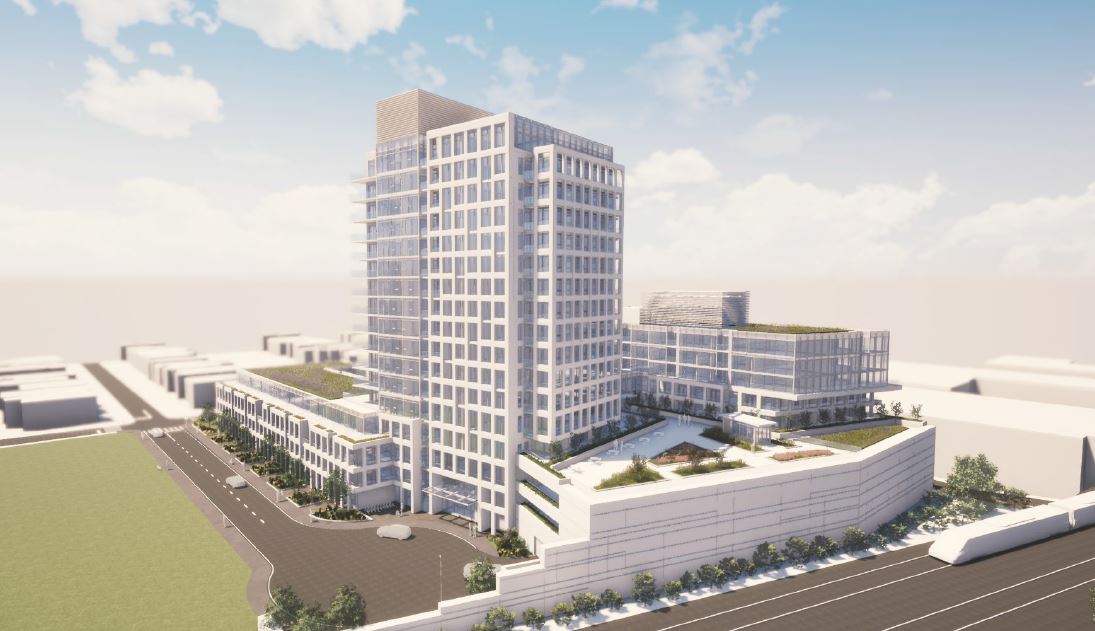 Rendering: South West View. Image by TACT Architecture Inc.
The irregular L-shaped project site at 386 through 394 Symington Avenue north of Dupont in Toronto's West End is bounded by Symington, Kingsley, and Perth Avenues and the CP Rail corridor. The site, which formerly housed low-rise industrial buildings demolished in 2009, sits largely vacant other than for a Sales Centre.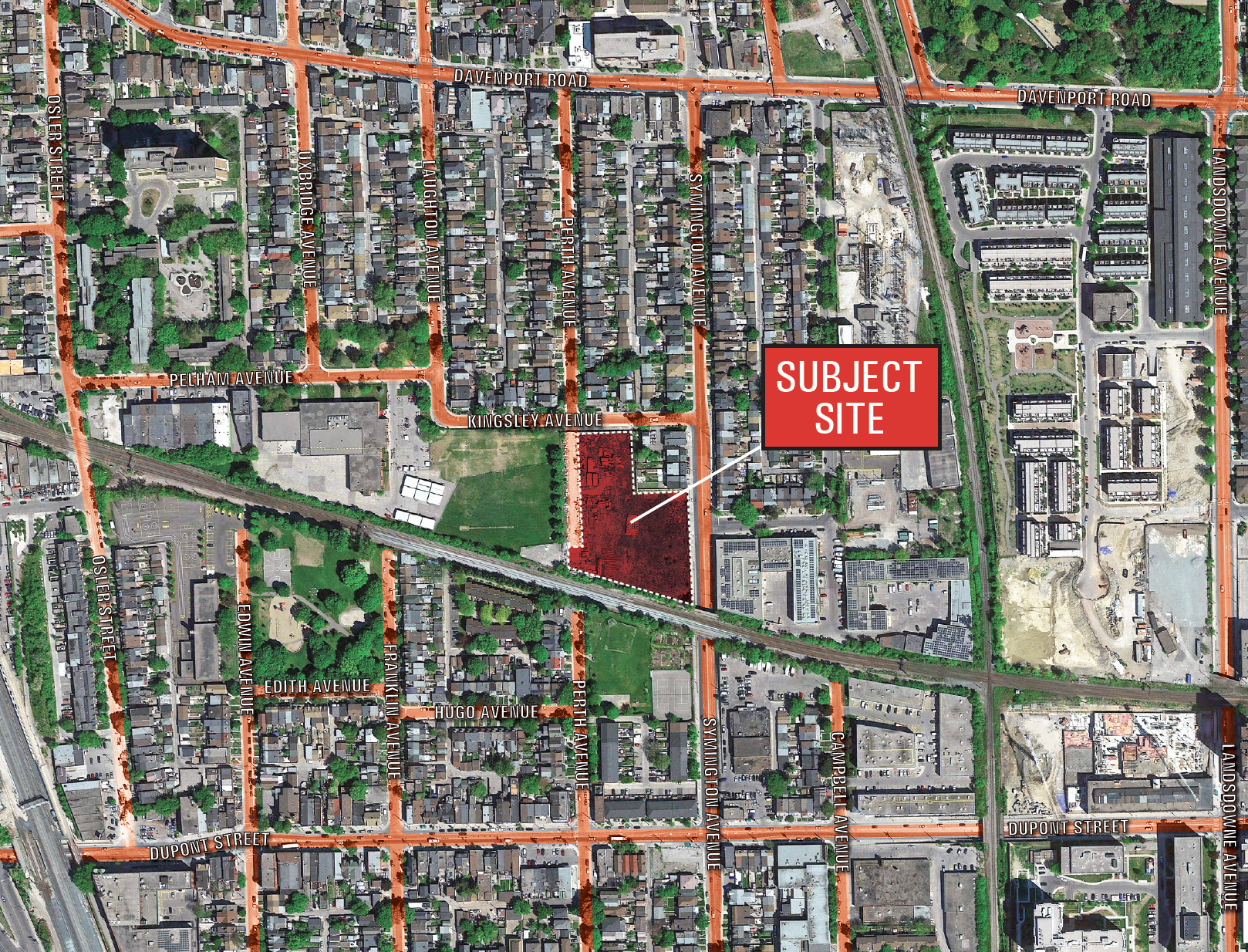 Aerial photo illustrating the subject site. Image by Bousfields Inc.
The development consists of two stacked townhouse blocks, a 17-storey tower, 54 metres high, with an attached 8-storey podium. The total gross floor area of the proposed development is 31,532 m², resulting in a total density of 4.0. FSI (Floor Space Index). No retail is proposed.
Although originally proposed in 2015 as two 17-storey buildings, the design has been refined considerably since then. Re-designed by TACT Architecture, the building also features step-backs in order to provide a transition in scale that is more similar in height to the two-storey houses to the north.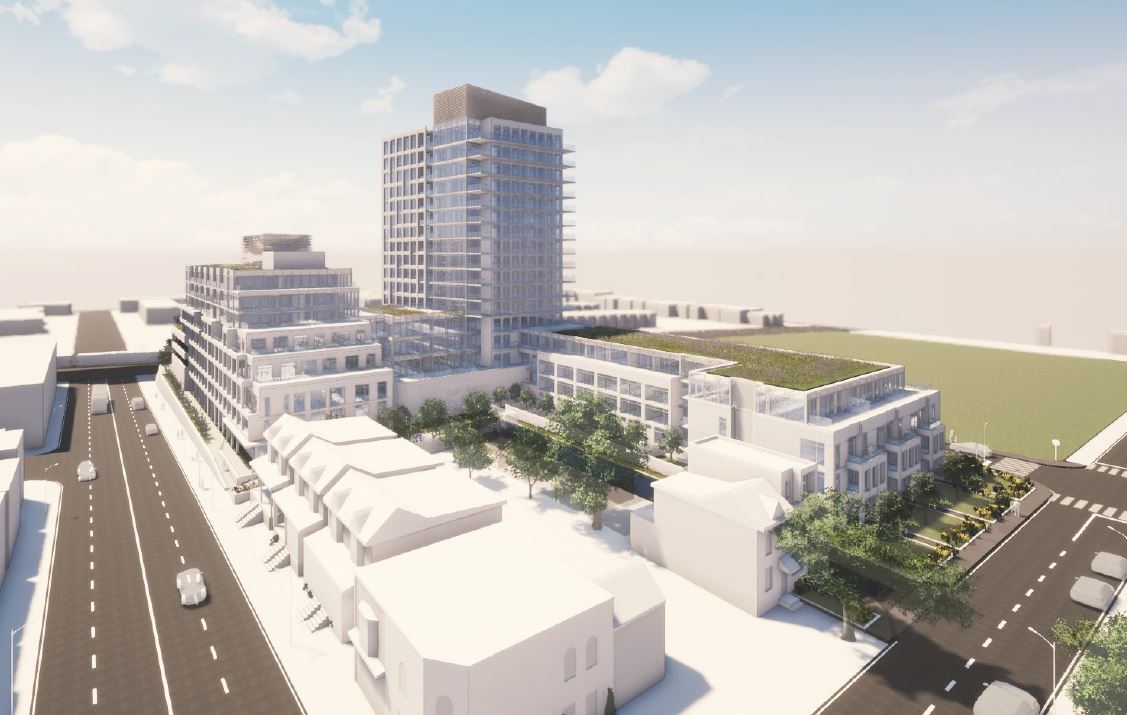 Rendering: North East View. Image by TACT Architecture Inc.
These slight massing revisions are depicted and described in detail in the drawings prepared by TACT, as are other modifications; for example, a more appropriate parking ratio and revised loading configuration.
As per below, the left image is the height map zoning envelope already approved by City Staff and LPAT. The image on the right reflects the slight massing revisions being put forward now for review.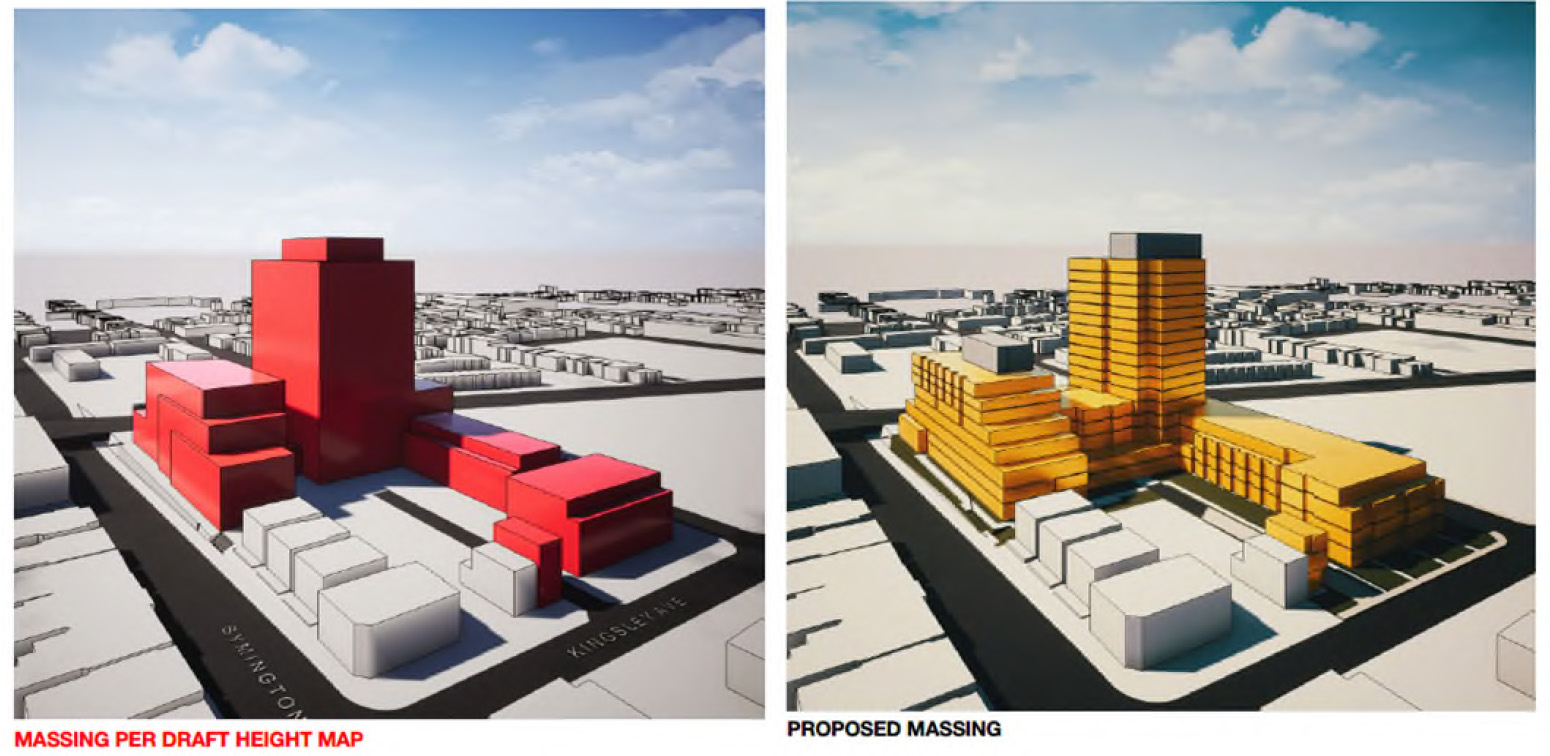 Massing studies: (L) approved zoning envelope; (R) proposed massing revisions. Image by TACT Architecture Inc.
A total of 377 dwelling units are proposed in a mix of 248 one-bedrooms (66%), 89 two-bedrooms (24%), and 40 three-bedrooms (10%). Of the 187 parking spaces included, 166 will be housed above grade in a three-storey covered parking garage at the terminus of Perth Avenue, and backing onto the rail corridor.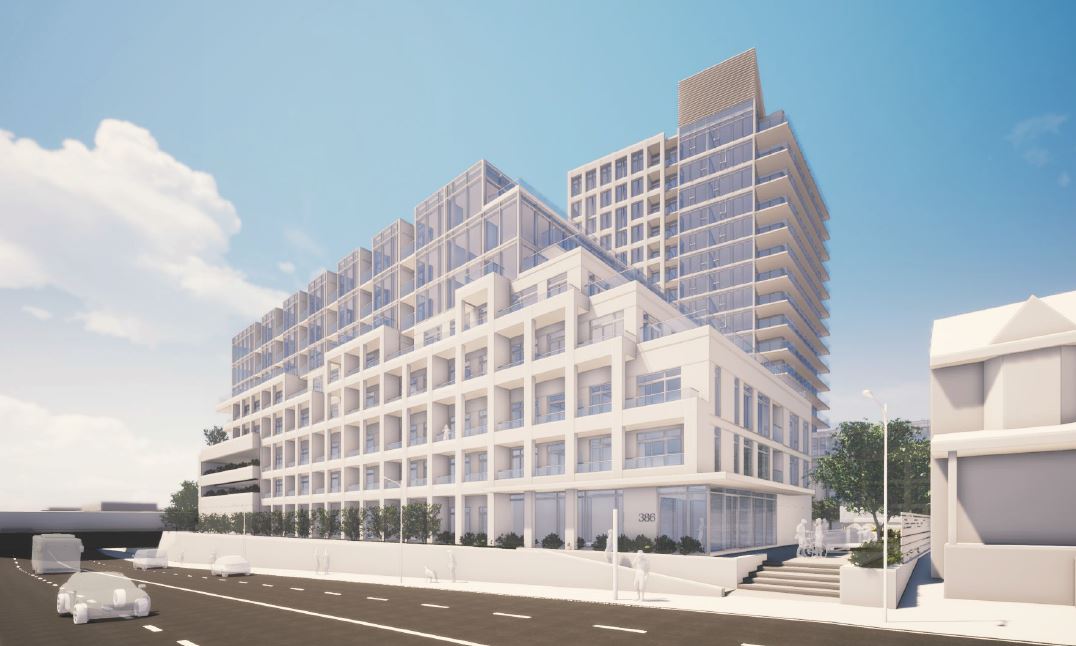 Rendering: View along Symington. Image by TACT Architecture Inc.
East Junction Condos proposes a nearly equal amount of indoor and outdoor amenity space, for a total of 1,540 m², including a party room, lounge, community living room, and an outdoor terrace on the building's second floor.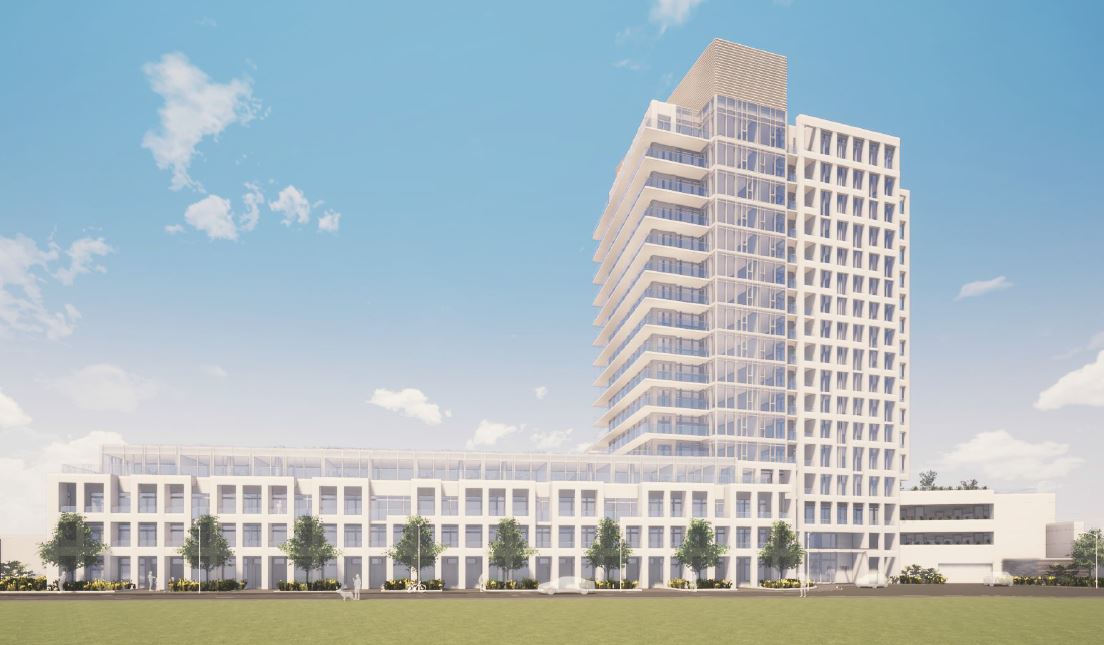 Rendering: West View. Image by TACT Architecture Inc.
The proposed height map zoning envelope is very similar to the massing already reviewed and approved by City Staff and LPAT. The Developer's team has clarified that "these revisions are for the purpose of issuance of a Final Order for the OPA and Zoning only – and is not a Site Plan Approval review, and any City Staff feedback or comments should be reflective of that."
You can learn more from our Database file for the project, linked below. If you'd like to, you can join in on the conversation in the associated Project Forum thread, or leave a comment in the space provided on this page.
* * *
UrbanToronto has a new way you can track projects through the planning process on a daily basis. Sign up for a free trial of our New Development Insider here.