In Toronto, much can change in just a few years. Among the many redevelopment sites populating Downtown, buildings and complexes that were once considered high-density beacons of optimism are now showing signs of age, while changes in planning policy and demand have ushered in bigger and taller ambitions. One example of this is unfolding at the foot of Yonge Street, where the Toronto Star complex is the site of one of the most ambitious projects in our city's history. The Pinnacle One Yonge development is bringing a trio of Hariri Pontarini Architects-designed towers with heights of 65, 80, and 95 storeys to the foot of the city's main north-south street, with the landmark 95-storey SkyTower currently the tallest approved building in all of Canada.
In July, 2018, a view south from a high-rise residential tower on The Esplanade showed the early stages of construction for the Pinnacle One Yonge residential towers. Excavation for the initial phase was quickly progressing and had recently unearthed remnants of an old storage tank, a reminder of the site's industrial past.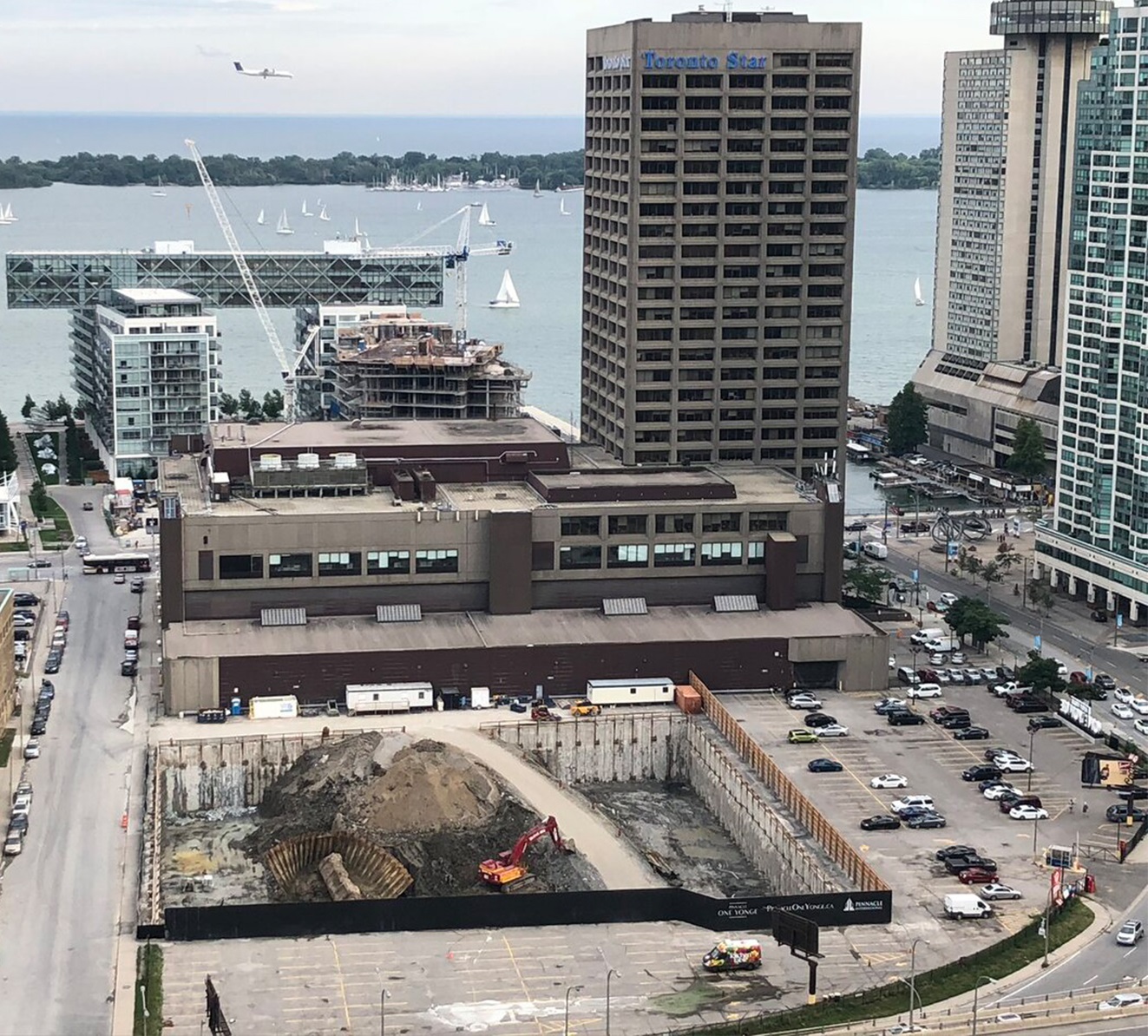 Looking south to the foot of Yonge Street, July, 2018, image by Forum contributor mburrrr
Catching up with the present, the same view reshot in early 2021 shows that the large pit has been replaced by a podium and rising tower of Pinnacle One Yonge's first phase, a 65-storey condominium dubbed The Prestige. With cladding fast-enclosing the ascending building, in the dark patch on the right of the photo below, excavation work has commenced for the signature second phase, dubbed SkyTower at Pinnacle One Yonge. It will eventually reach a dizzying height of 312.5 metres, taller than any building that currently exists in Canada… but the already well-under-construction The One at Yonge and Bloor, however, is seeking a height increase that would give it the crown of Canada's tallest if approved.)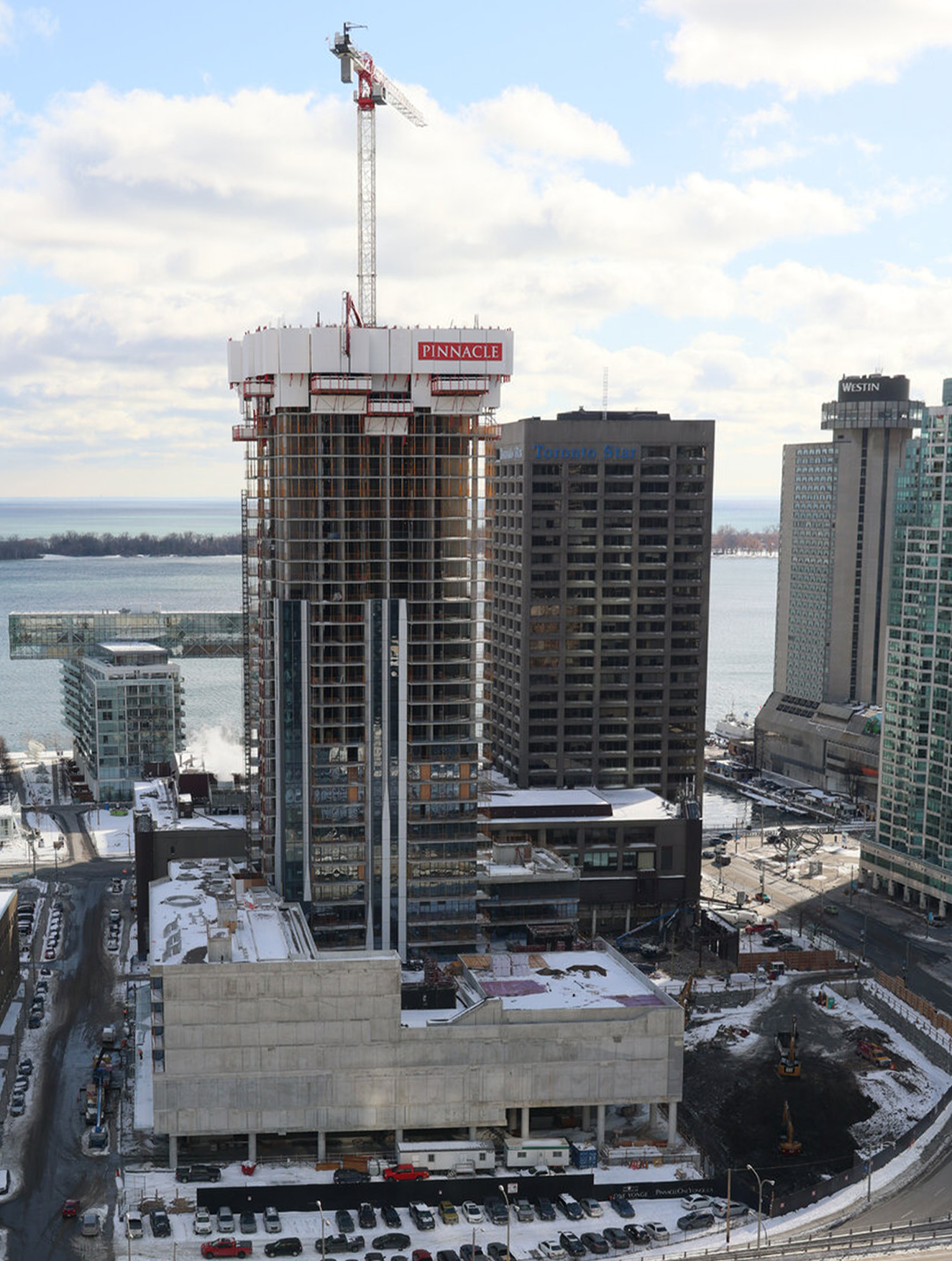 Looking south to the foot of Yonge Street, January, 2021, image by Forum contributor mburrrr
Comparing the two frames together in a GIF offers a better view of the changes in just 2.5 years.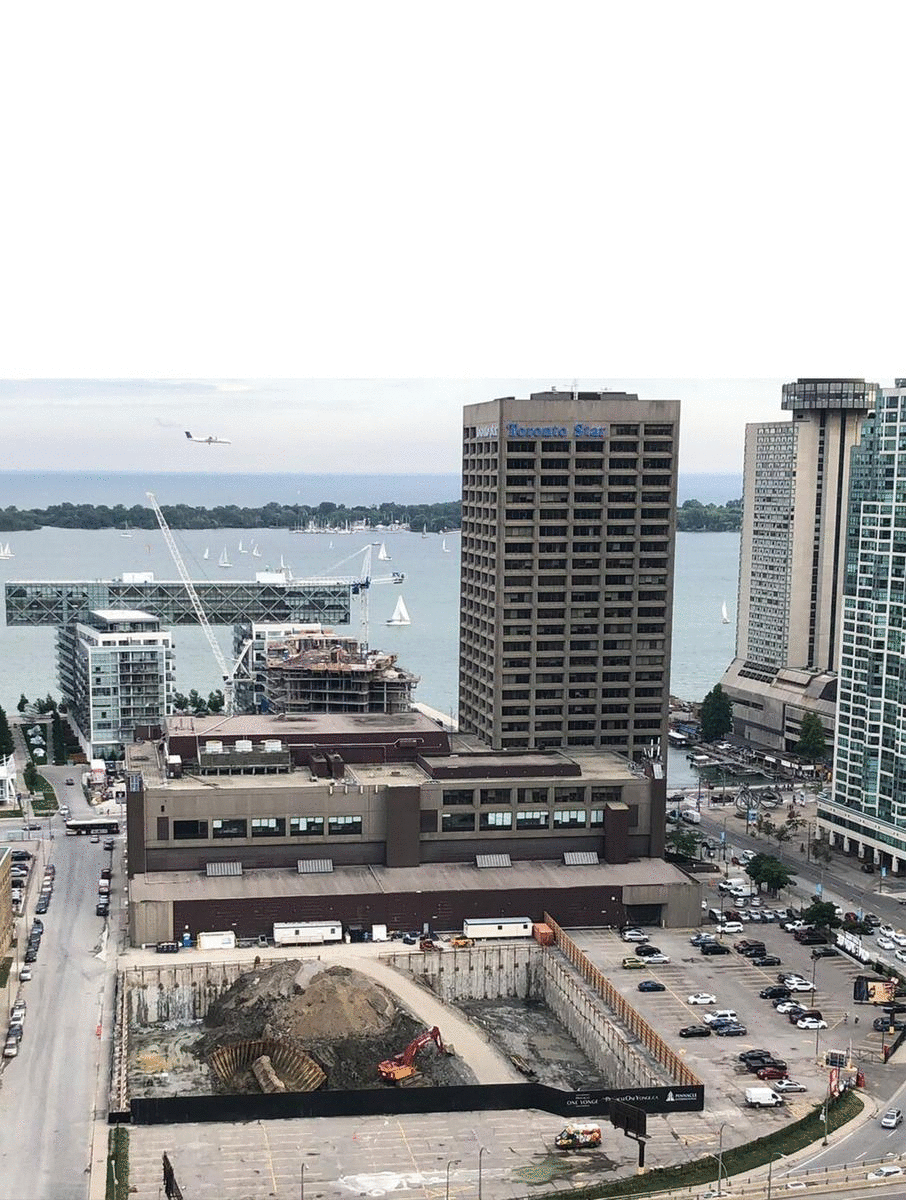 2.5 years of change at the foot of Yonge Street, images by Forum contributor mburrrr
We will return next week with another look at the changing face of Toronto. In the meantime, you can submit your own Throwback Thursday comparisons in our dedicated Forum thread for your chance to be featured in next week's edition.
* * *
UrbanToronto has a new way you can track projects through the planning process on a daily basis. Sign up for a free trial of our New Development Insider here.