A redevelopment proposal in Etobicoke has been revised via an updated Zoning By-law Amendment application in November, 2020 to the City of Toronto. Located a kilometre west of Kipling subway and GO station at 5507 and 5509 Dundas Street West on the southwest corner with Shorncliffe Road, a 21 storey mixed-use development is proposed, on adjacent lots currently vacant other than for a disused car showroom.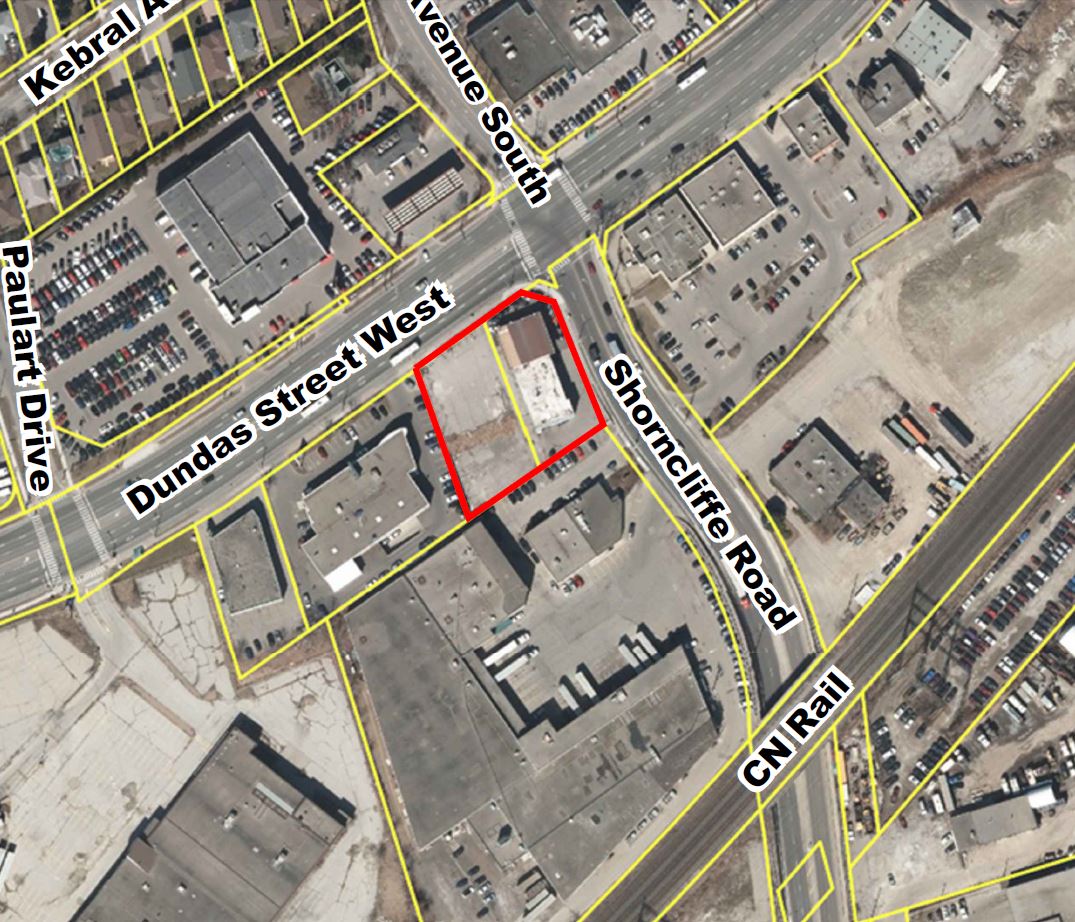 Aerial view of site, image from MHBC Planning
Contessa Developments first proposed in 2018 a 12 storey/43 metre high tower on a single lot at 5509 Dundas. The building, seen below and designed by BNKC (formerly known as Bodgan Newman Caranci Architects), with retail on the ground level and residential above, featured a series of alternately angled projecting balconies.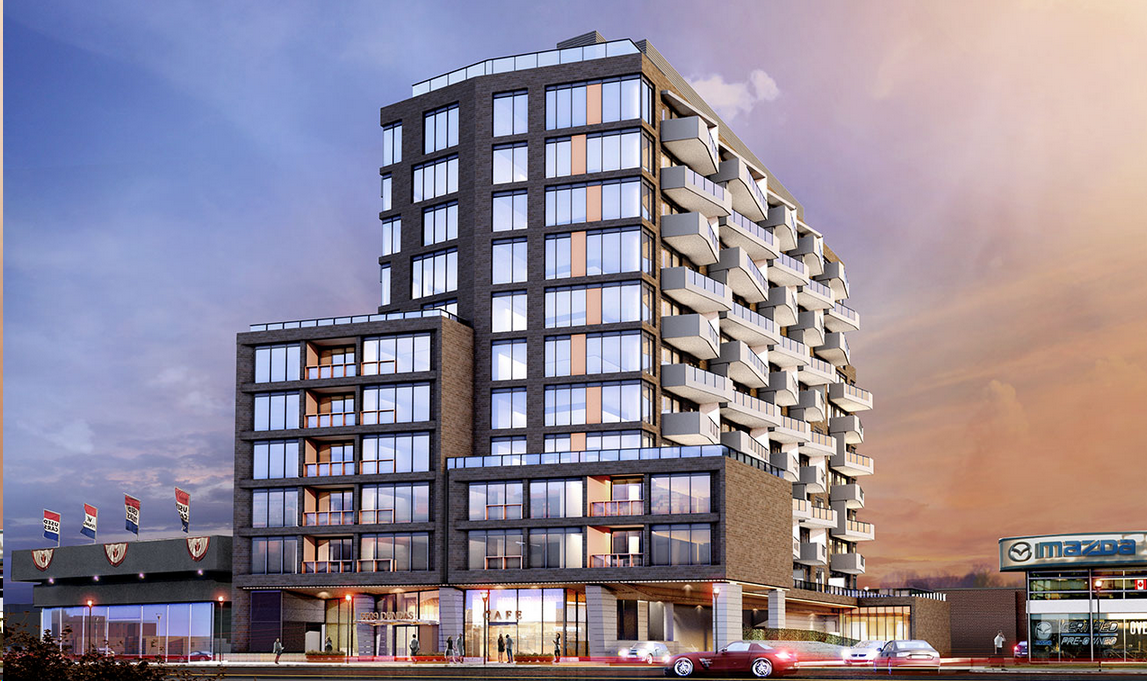 Original 12-storey proposal for 5509 Dundas Street West, designed by BNKC for Contessa Developments
Contessa subsequently added 5507 Dundas Street West to the site and submitted a revised proposal for a 21-storey/73 metre high building on the expanded land assembly. Originally proposed with 114 rental units, the expanded proposal includes 260 rental units, in a mix of 154 one-bedrooms (59%), 78 two-bedrooms (30%), and 28 three-bedrooms (11%), including 5 townhome units, with 41% of the units family-friendly. The City is requiring that at least 6 affordable rental units be provided and maintained in the building.
The revised proposal has a gross floor area of 21,967 m², 95% of it residential, the remaining 1,208 m² set for ground floor retail uses. Along its street frontage, a new POPS (Privately Owned Publicaly accessible Space) of no less than 177 m² in area is being designed by Popovich Associates landscape architects with flexible seating, planters, and shade trees.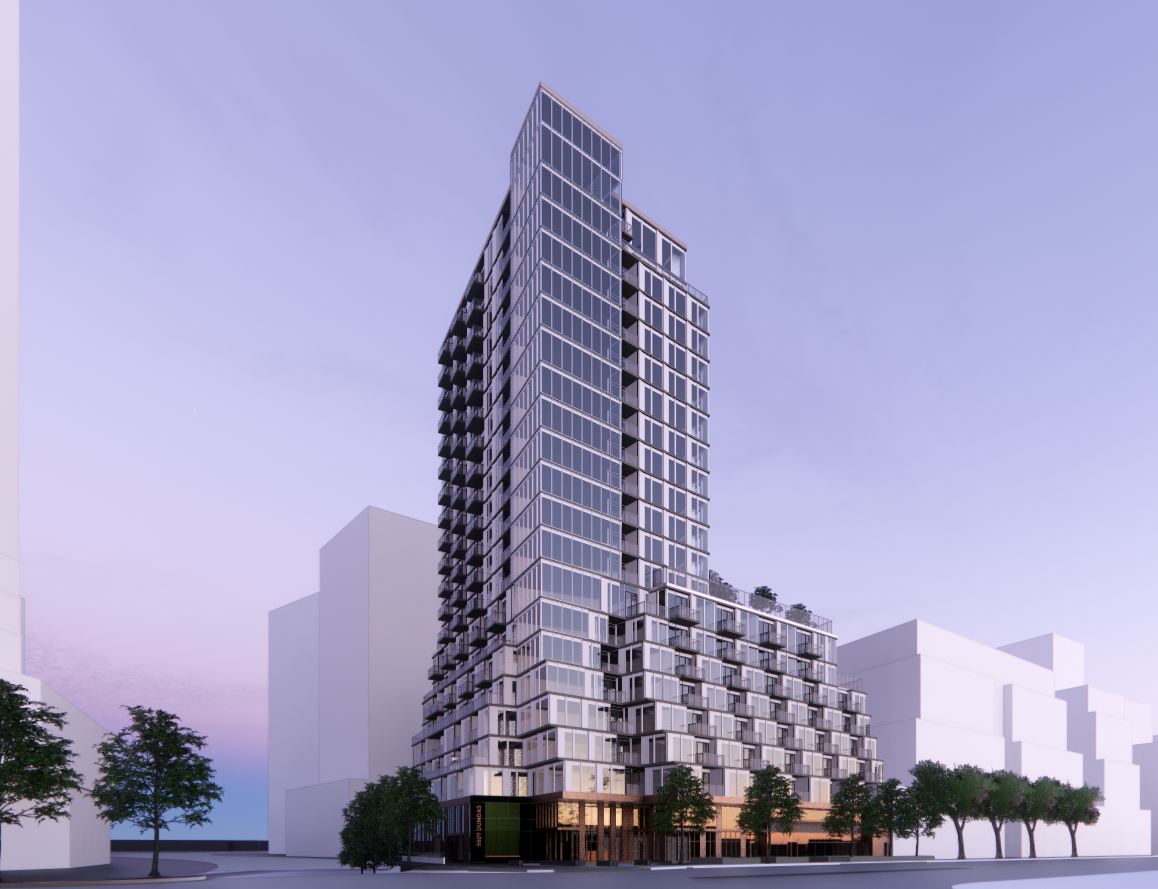 Early 2020 plan for 5509 Dundas Street West, looking south, designed by BNKC for Contessa Developments
A 3 level underground garage is proposed with 235 parking spaces; 200 for residents and 35 for visitors. There would also be 198 bicycle parking spaces. The City is requiring the construction of a bus platform, stop, and shelter on the Shorncliffe road frontage to the satisfaction of the Toronto Transit Commission.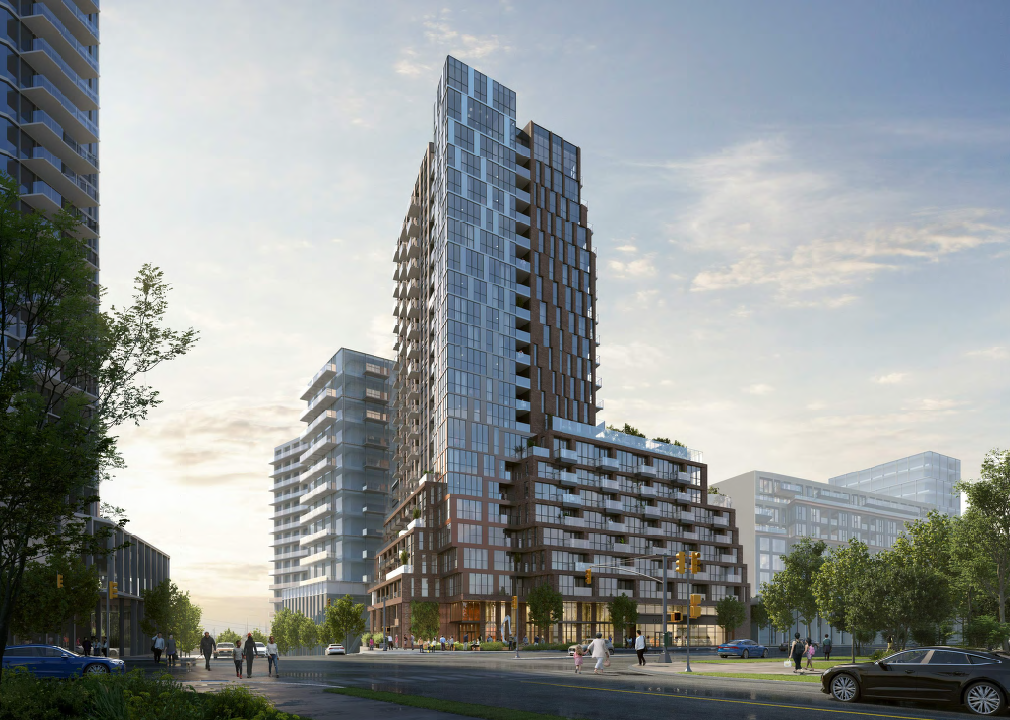 Late 2020 submission for 5509 Dundas Street West, looking south, designed by BNKC for Contessa Developments
Additional information and images can be found in our Database file for the project, linked below. Want to get involved in the discussion? Check out the associated Forum thread, or leave a comment in the space provided on this page.
* * *
UrbanToronto has a new way you can track projects through the planning process on a daily basis. Sign up for a free trial of our New Development Insider here.