Almost two years after two adjacent proposals on Eglinton Avenue west of Yonge Street in Midtown Toronto were integrated into a single plan, the proposed two-tower complex at 50 through 90 Eglinton Avenue West has been revised and submitted to City staff for Zoning By-law Amendment and Site Plan Approval.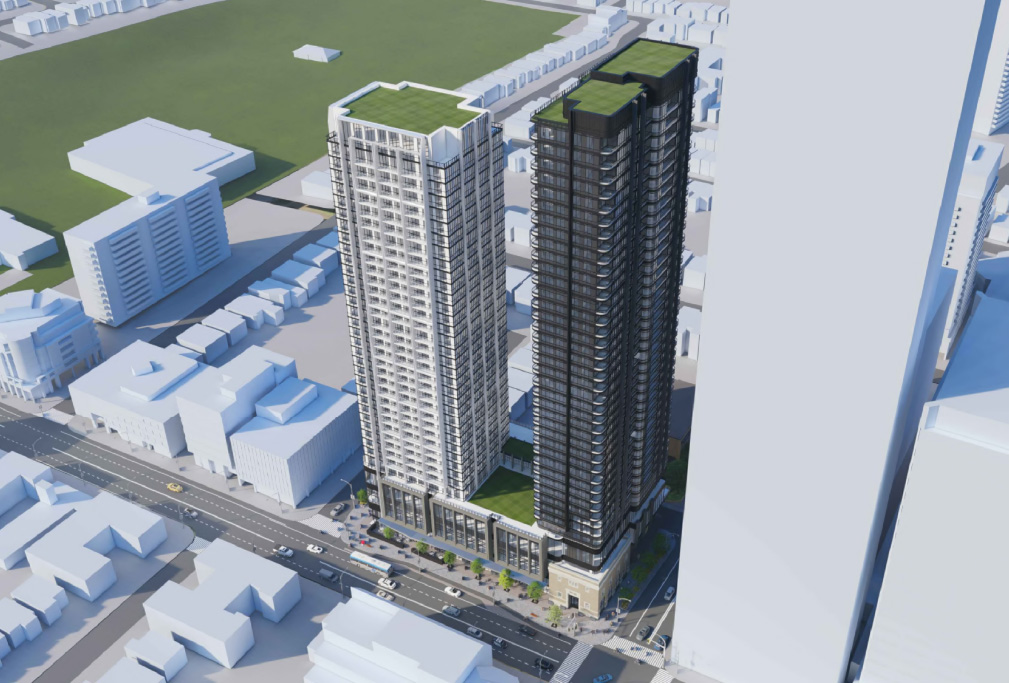 Aerial view rendering from the South East. Image by Turner Fleischer Architects Inc.
The site is an assembly of properties that has been subject to previous development applications and currently has zoning approvals in place. Developer Madison Group is seeking to make some modifications —primarily height increases— to those approvals through a new rezoning application.
UrbanToronto last reported on this project in March, 2020.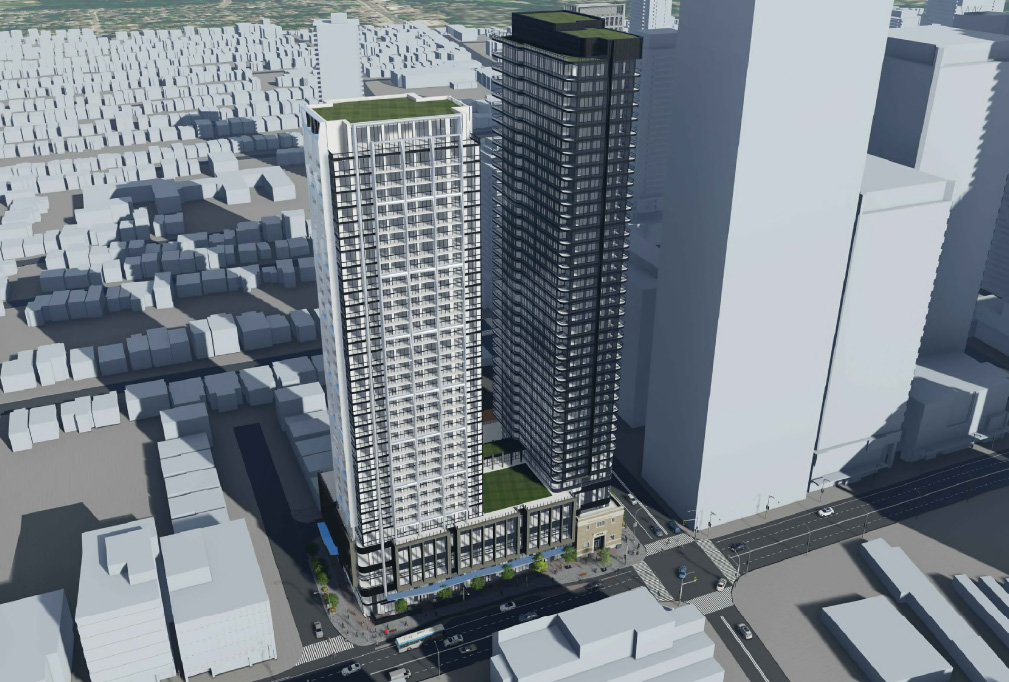 Aerial view rendering from the South West. Image by Turner Fleischer Architects Inc.
Hariri Pontarini Architects serves as Design Architect, Turner Fleischer Architects is Architect of Record, and ERA Architects act as heritage consultants on the project. New renderings paint a largely unchanged picture since the last submission, incorporating revisions to the height, as well as additional elevation changes.
The initial proposal was for two towers measuring 24 storeys (West Tower) and 32 storeys (East Tower). The proposal has now been amended to increase the height of the towers to 34 and 39 storeys, 117.05 metres and 130.9 metres tall respectively, atop a 3-storey mixed-use base building. The two towers are separated by 21.0 metres.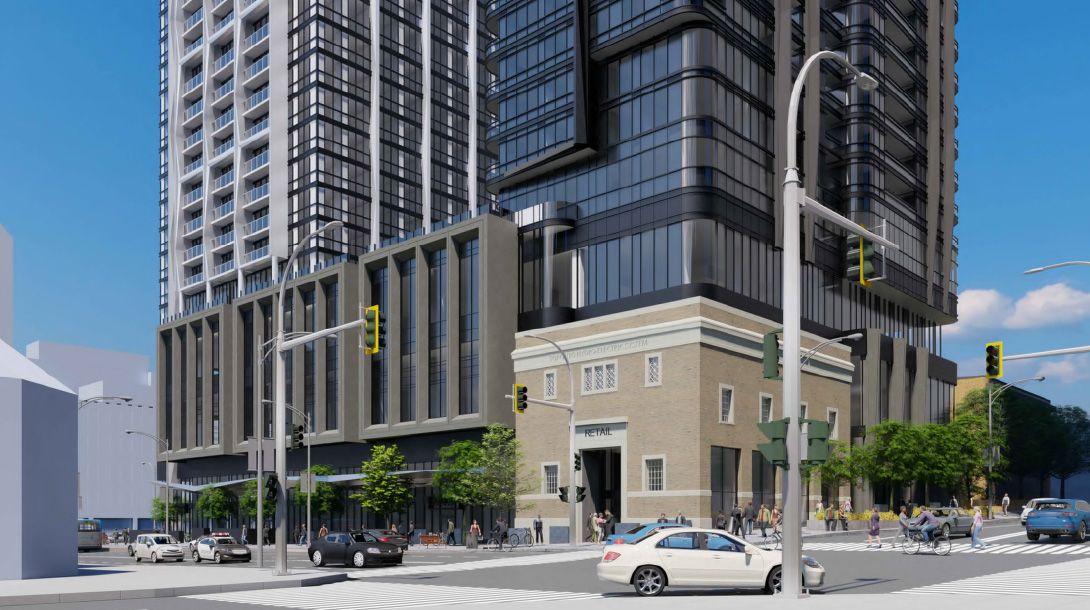 View North-West from South-East corner of Eglington Ave W & Duplex Ave. Image by Turner Fleischer Architects Inc.
A total gross floor area of 54,755 m² is proposed, of which 2,898 m² is planned for retail uses on levels 1 and 2, and 4,048 m² for office spaces on levels 2 and 3. This results in an FSI of 13.73 times the lot area. The fourth floor would be dedicated to indoor and outdoor amenity space.
Like previous versions, the base building has been designed to incorporate the retained front facades of the designated heritage building, a1920-built Toronto Hydro-Electric substation, at the southeast corner of the site, incorporating new glazing into the east façade. Along the balance of the podium, new glazing, multiple entrances and retail windows are proposed at grade.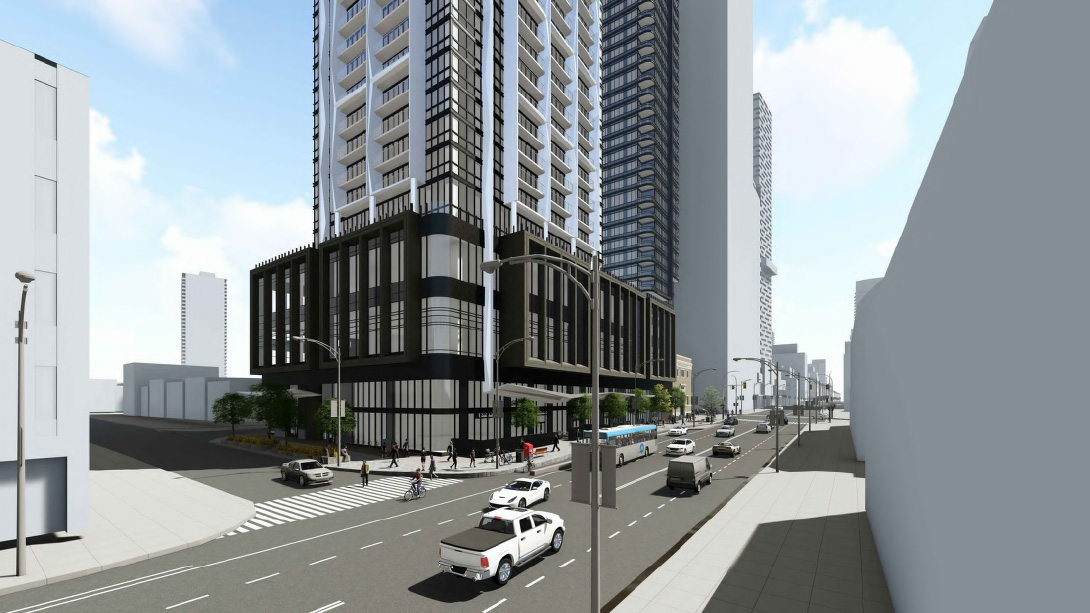 View East from South-East corner of Eglington Ave W & Maxwell Ave. Image by Turner Fleischer Architects Inc.
The updated plan's towers call for a combined 688 condominium units, an increase from the 534 in the 2020 application. These are now proposed in a mix of 348 (50.6%) one-bedrooms, 270 (39.2%) two-bedrooms, and 70 (10.2%) three-bedrooms.
The material palette comprises precast, metal panel, window wall and curtain wall glazing systems, and back-painted glass spandrel.
Parking for the complex would be housed within a four-level underground garage with 297 spaces, 209 for resident use, and 88 spaces shared between visitors, retail, and office users. 744 bicycle parking spaces would also be included.
Rendering: Pedestrian realm – Eglington Ave W & Duplex Ave. Image by Turner Fleischer Architects Inc.
In addition, as secured through the previous approvals, off-site parkland dedications will be provided at 61 Montgomery Avenue and 58 Helendale Avenue, two adjoining properties located along Duplex Avenue between Montgomery Avenue and Helendale Avenue, with a combined area of approximately 343 m².
You can learn more from our Database file for the project, linked below. If you'd like to, you can join in on the conversation in the associated Project Forum thread, or leave a comment in the space provided on this page.
* * *
UrbanToronto has a new way you can track projects through the planning process on a daily basis. Sign up for a free trial of our New Development Insider here.