Curated Properties' proposal for a south Parkdale neighbourhood street could see a stretch of two and three-storey homes replaced by a 16-storey apartment building. The developer has just submitted a Zoning By-law Amendment application to the City of Toronto, seeking approvals to build the denser urban form at 2 through 24 Temple Avenue on the northwest corner where it meets Dufferin Street.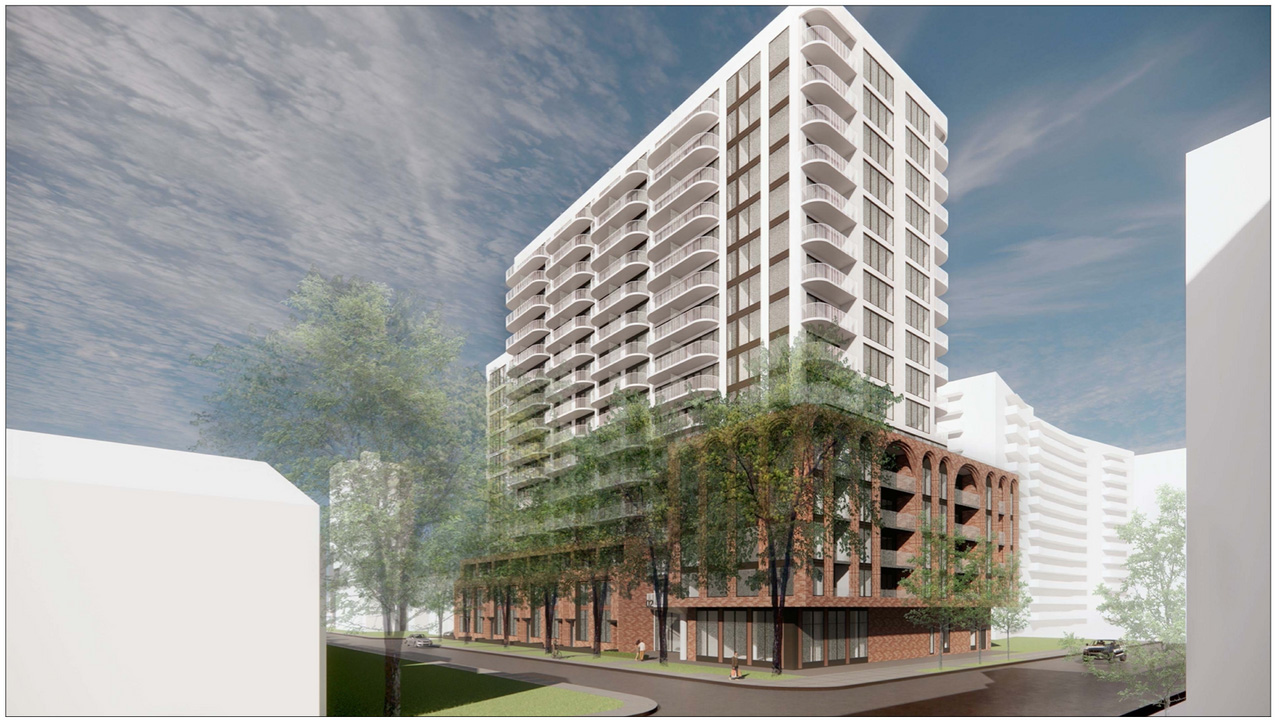 Looking northwest to 2 Temple Avenue massing concept, image by RAW Design
The assembled site is located a block south of King Street West. The lot measures 68.5 metres along Temple and 35.5 metres on Dufferin, and is currently occupied by 2 and 3-storey detached and semi-detached houses. The residential neighbourhood's surroundings include: low-rise to the south; 9-14 storey apartment buildings immediately to the north; a combination of low-rise and 6-18 storey apartment buildings to the west; and, converted warehouse and former manufacturing buildings across Dufferin Street to the east.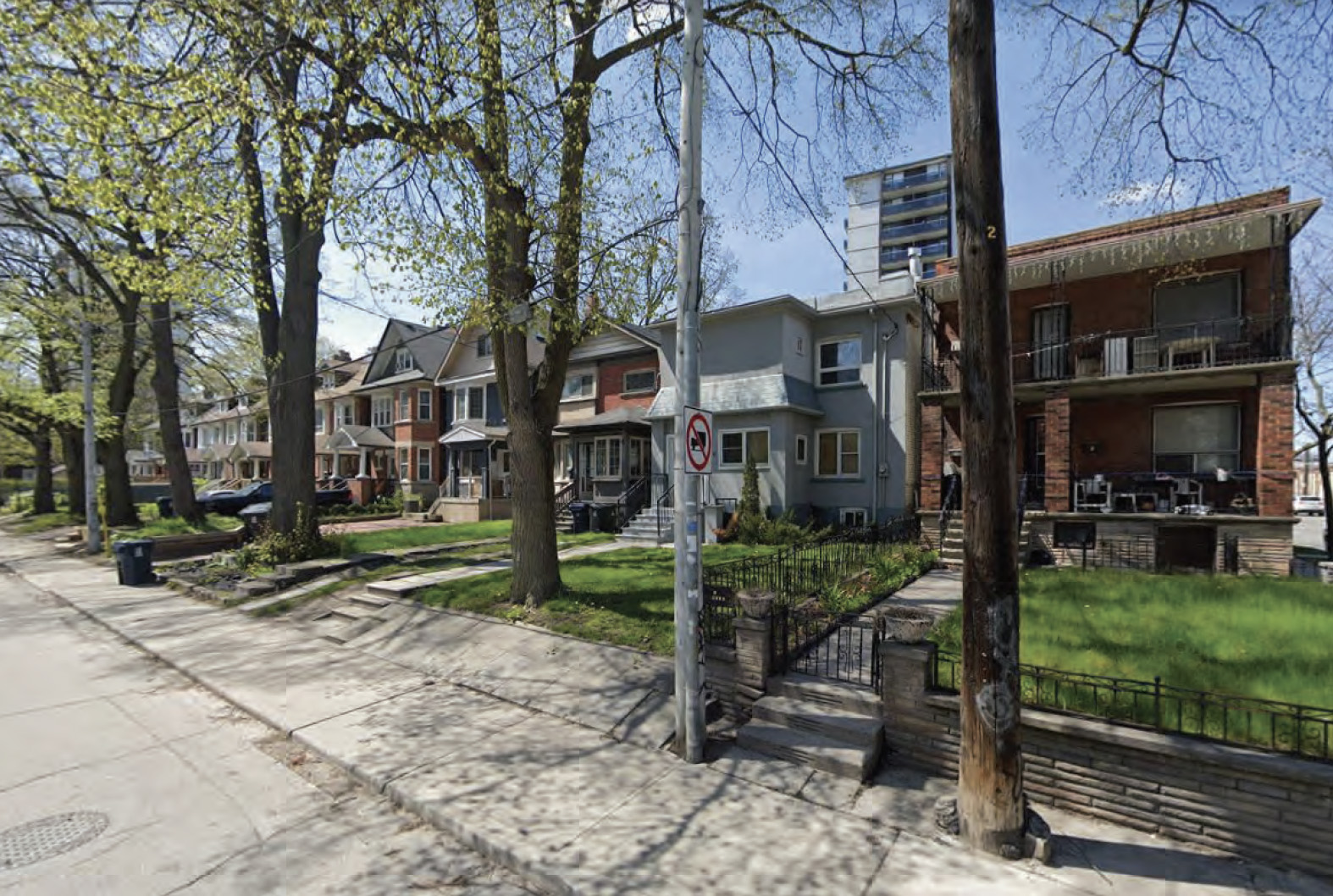 Existing single and semi-detached houses currently on the north side of Temple Avenue. Image by Googlemaps.
RAW Design has devised a 16-storey residential complex with base frontages of 5-storeys along Dufferin, and 3-storey townhouse units along Temple with step-backs towards the upper floors to reinforce a pedestrian scaled environment and transition to the surrounding uses. The proposal's total gross floor area (GFA) is 19,696 m², resulting in a Floor Space Index (FSI) of 8.09 on the 0.6-acre site.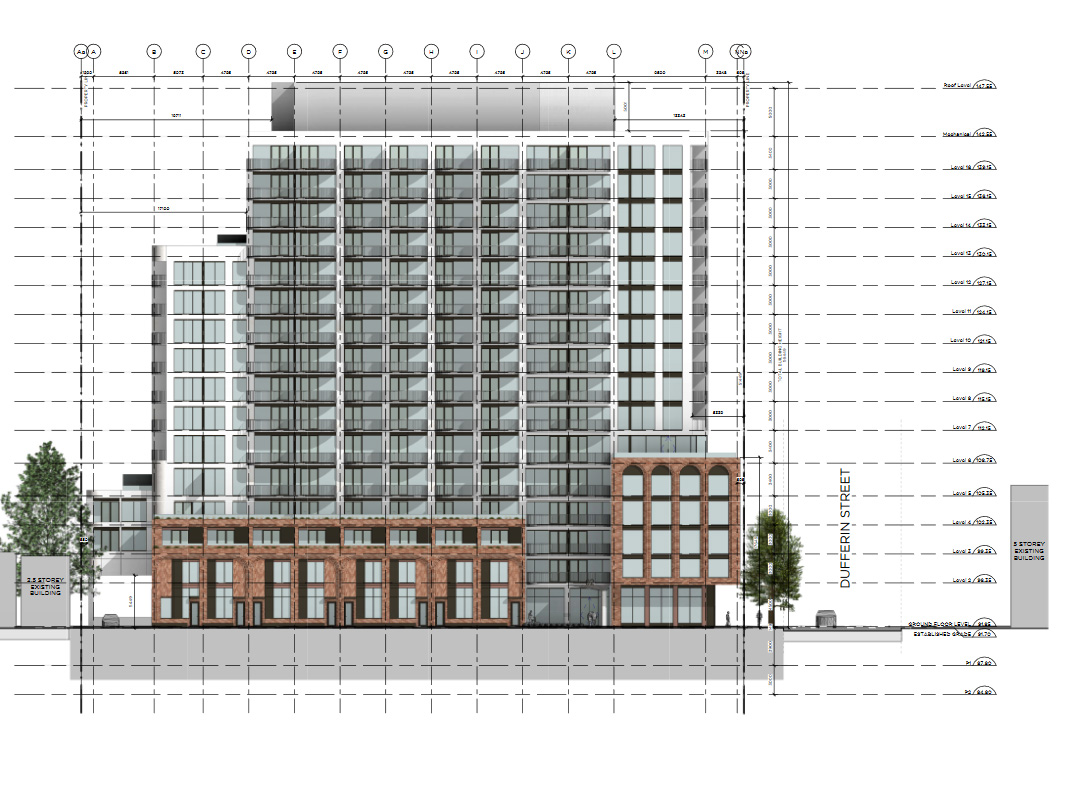 South Elevation facing Temple Ave. The max building height is 56.45 m measured from the established grade to top of roof parapet. Image by RAW Design
The development would introduce 273 new residential units to the neighbourhood's housing supply, in the following breakdown: 14 bachelor, 131 one-bedroom, 100 two-bedroom, and 28 three-bedroom units. The existing 22 rental dwelling units now onsite would be replaced as part of the ZBA applications with modern and more efficient units, comparable in size to the existing ones.
According to the Planning Rationale, "The proposed development contemplates a higher density residential building to support the existing Exhibition GO Station, planned future King-Liberty SmartTrack Station, existing TTC Bus and Streetcar routes, and pedestrian and public realm."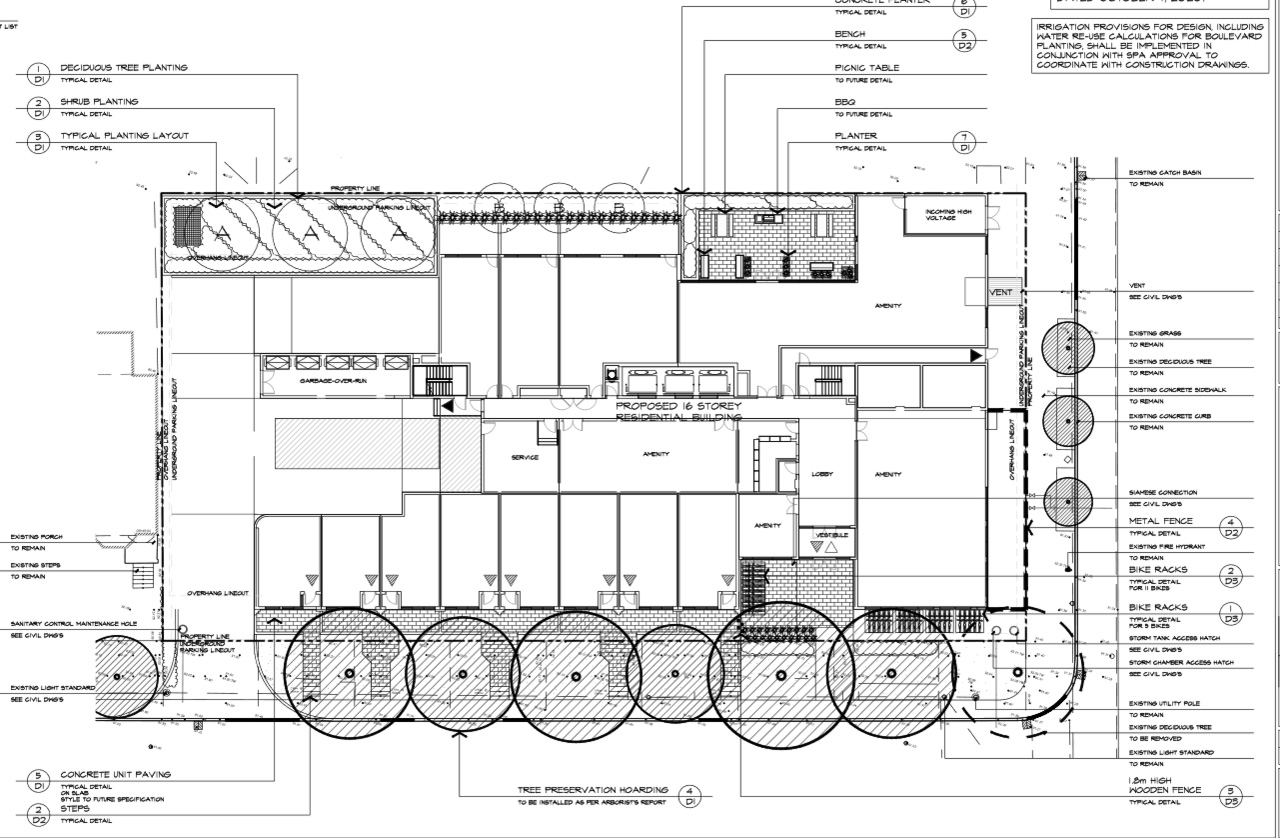 Landscape Context Plan by Alexander Budrevics & Associates Ltd.
The design provides outdoor and indoor amenity spaces at the ground level and the 6th floor, along the Dufferin frontage. Residents would also have access to secured indoor bicycle parking facilities and storage lockers. A total of 109 vehicle and 262 bicycle parking spaces are proposed on two below-grade levels accessible via a ramp along the west side of the building.
East Elevation facing Dufferin Street. Image by RAW Design
The proposal would introduce street furniture, decorative paving, urban street trees and plantings, and coordinated light fixtures to promote an attractive pedestrian oriented environment. It also plans to preserve and maintain all healthy trees on or within 6 metres of the project.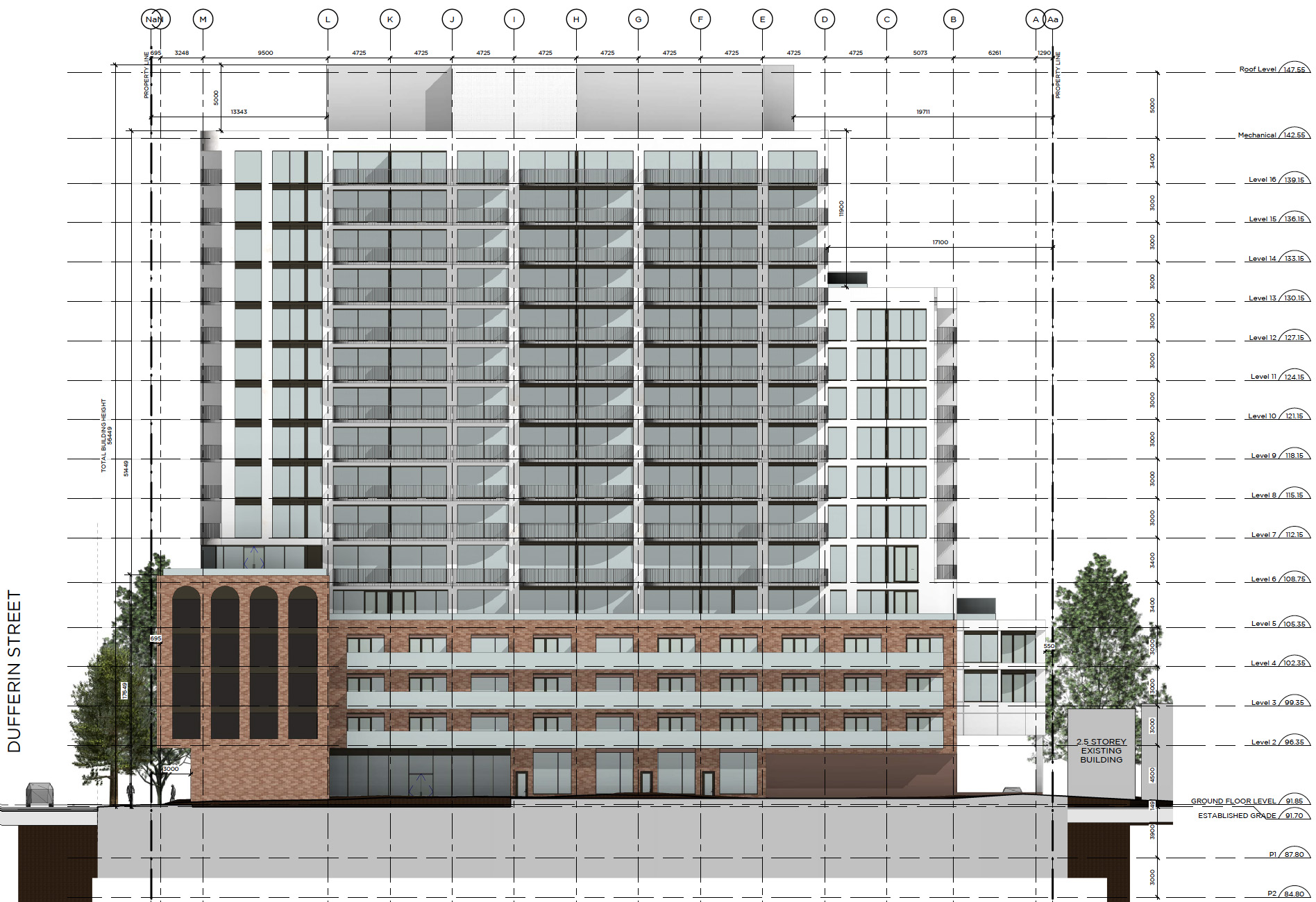 North Elevation. Image by RAW Design
You can learn more from our Database file for the project, linked below. If you'd like to, you can join in on the conversation in the associated Project Forum thread, or leave a comment in the space provided on this page.
* * *
UrbanToronto has a new way you can track projects through the planning process on a daily basis. Sign up for a free trial of our New Development Insider here.