Revisions have been made to a proposed development in Toronto's Junction neighbourhood, first submitted to the City in March of 2020. The site at 3194 through 3206 Dundas Street West is located on the north side of the street a few blocks east of Runnymede Road. Developed by Gairloch Developments' and designed by BDP Quadrangle, the proposal is for an 8-storey condominium with a unique curved-cornered massing, featuring brick and punched windows.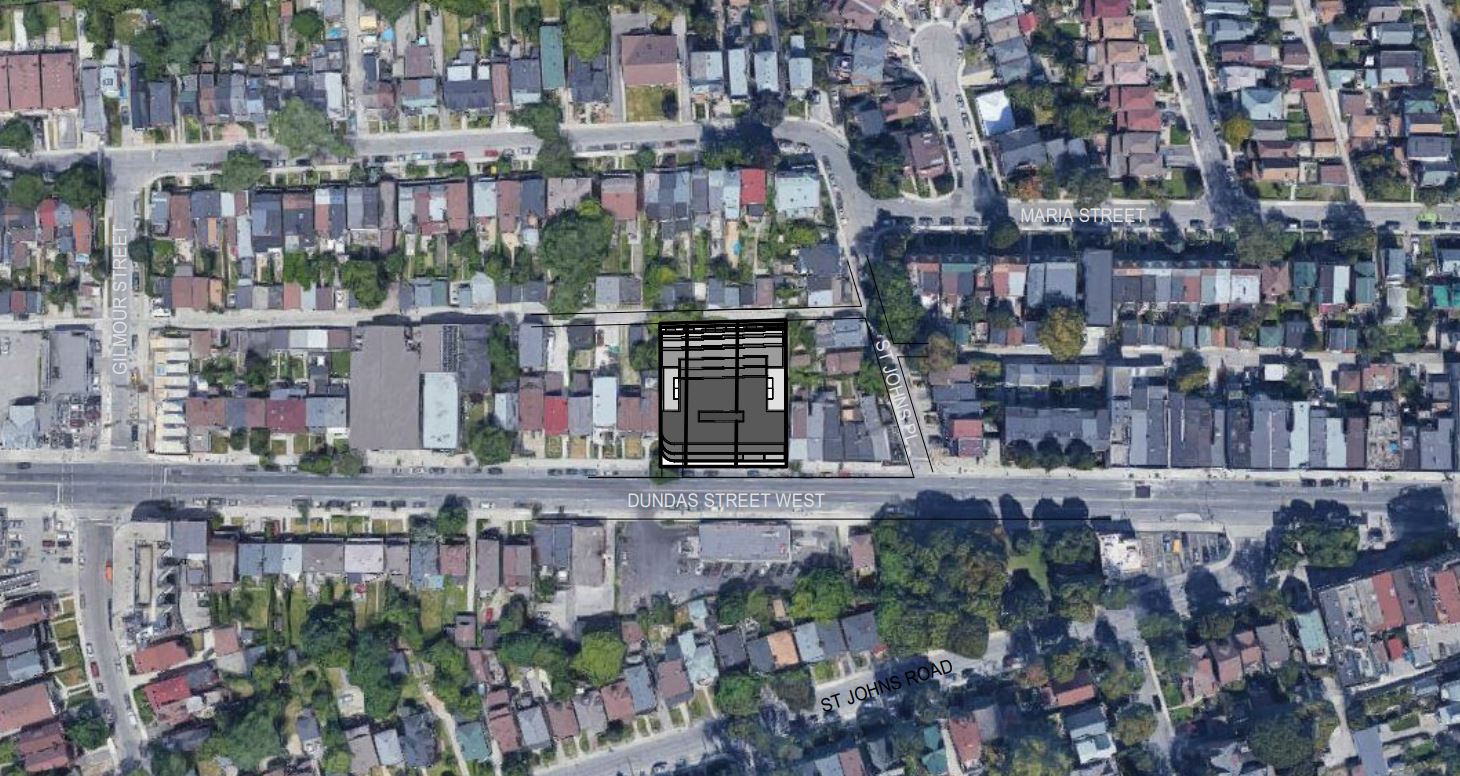 Aerial View of the 3194 Dundas Street West site, image by Bousfields
The current site contains 3 low rise properties consisting of a 2 storey mixed-use building containing both an animal hospital and residential uses, a single storey place of worship, and a 2 storey residential building. While the current buildings are typical of the historical development on this stretch of Dundas, the proposal's massing is typical of current day proposals for redevelopment on adjacent blocks.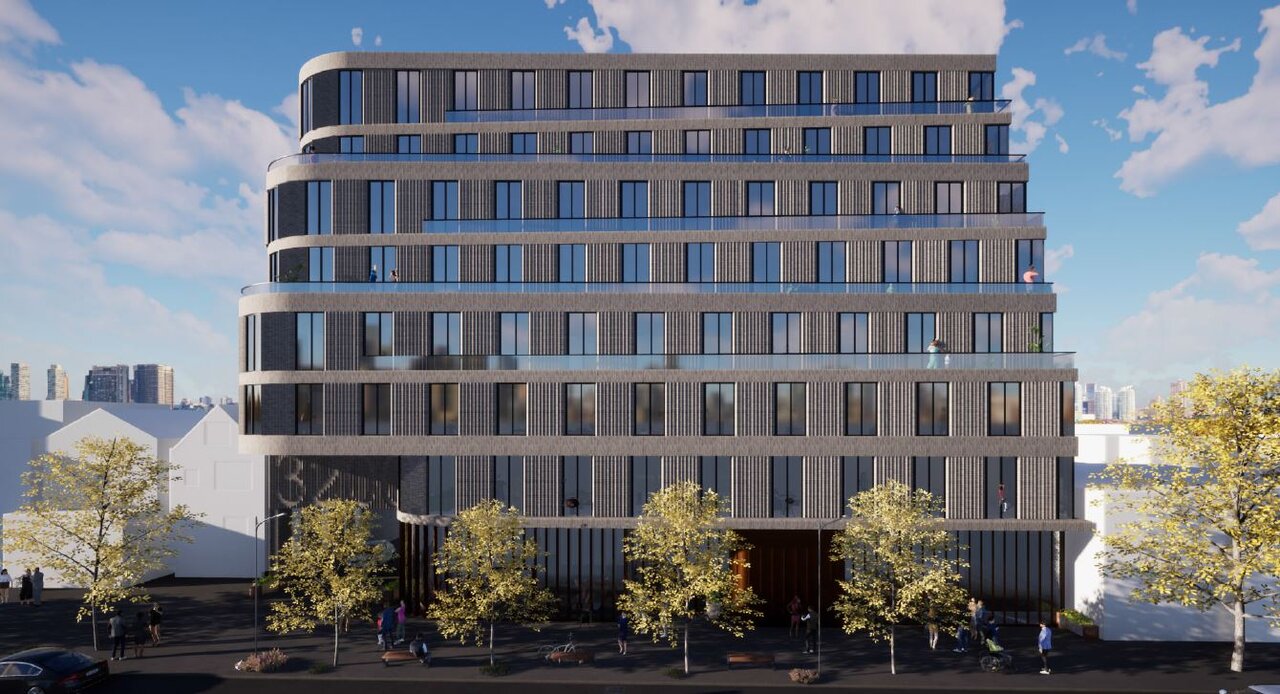 Looking north to 3194 Dundas Street West, designed by BDP Quadrangle for Gairloch Developments
Revisions made to the proposal in December, 2020 are in response to concerns raised by the community and City staff. While curved corners and a terraced massing have been kept, design changes include:
the original design (below) featured irregularly placed punched windows which the new design (above) places more traditionally in lines.

the brick exterior of the original design blended from red facing Dundas to white facing the adjacent neighbourhood, while the new design features darker brick.

a new mid-block pedestrian connection to link the Dundas Street West sidewalk to the rear laneway.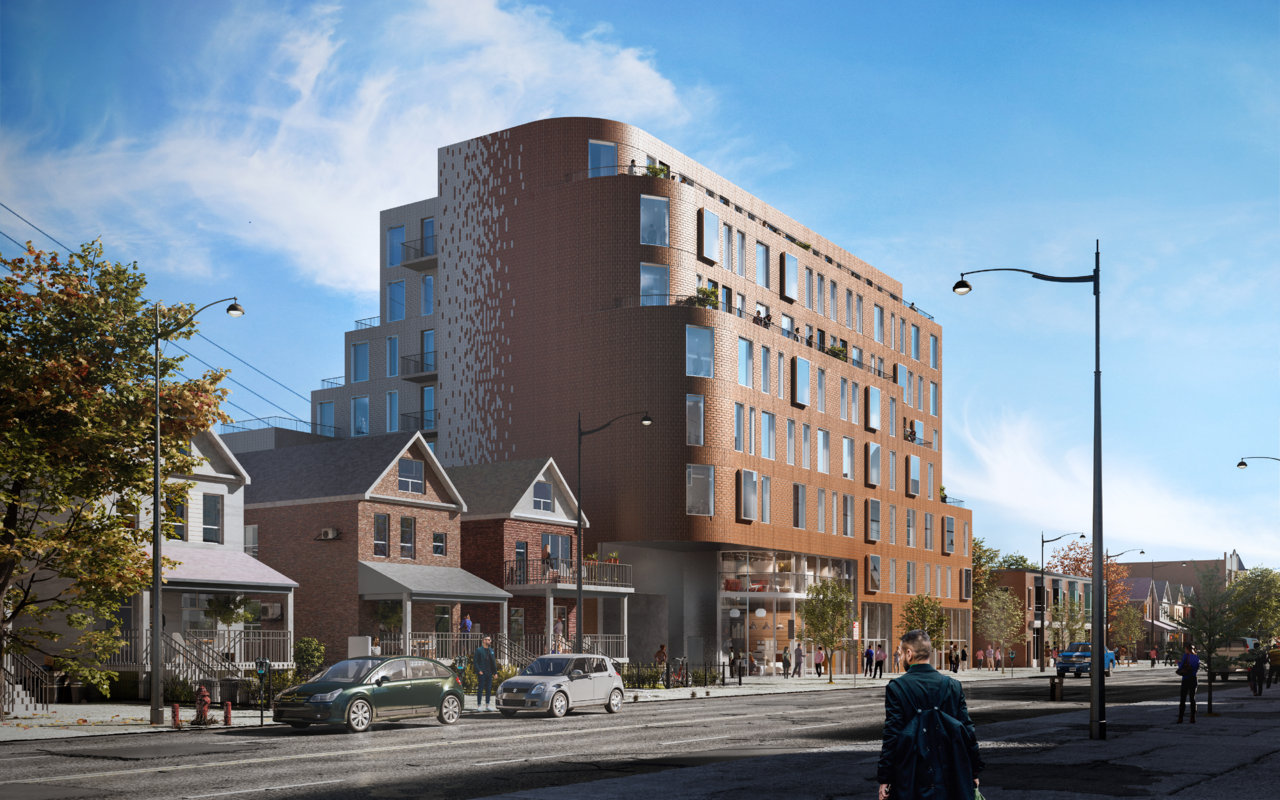 Looking northeast to 3194 Dundas Street West, Previous version, designed by BDP Quadrangle for Gairloch Developments
More technical changes see the height of the building reduced from 27.6 m to 26.6 m. The Gross Floor Area, GFA, sees a reduction from 7,522 m² to 7,196 m², with residential space decreasing from 7,400 m² to 7,086 m², and retail space reduced from 122 m² to 110 m². The number of dwelling units increases by 1 to 89 while the unit mix has changed from 62 to 55 one-bedrooms, 17 to 24 two-bedrooms, and 9 to 10 three-bedrooms. Amenity space increases from 249 m² to 288 m². A two-level underground garage is now proposed to contain 60 spaces, 5 more spaces from the original proposal, with spaces 55 for residents and 5 for visitors. There are 90 spaces proposed for bicycle parking.
Ground level of existing site, 3194 Dundas Street West, image retrieved from Google Street View
Additional information and images can be found in our Database file for the project, linked below. Want to get involved in the discussion? Check out the associated Forum thread, or leave a comment in the space provided on this page.
* * *
UrbanToronto has a new way you can track projects through the planning process on a daily basis. Sign up for a free trial of our New Development Insider here.