Plaza Partners, in partnership with Main and Main and Woodbourne Canada Management, hopes to replace a strip of small-scale structures on St Clair Avenue west of Avenue Road with a nearly 400-foot/122-metre-long, 15-storey infill residential complex. In November, 2020, Plaza submitted an Official Plan Amendment and Zoning By-Law Amendment applications to permit the redevelopment of 175 through 195 St Clair Avenue West.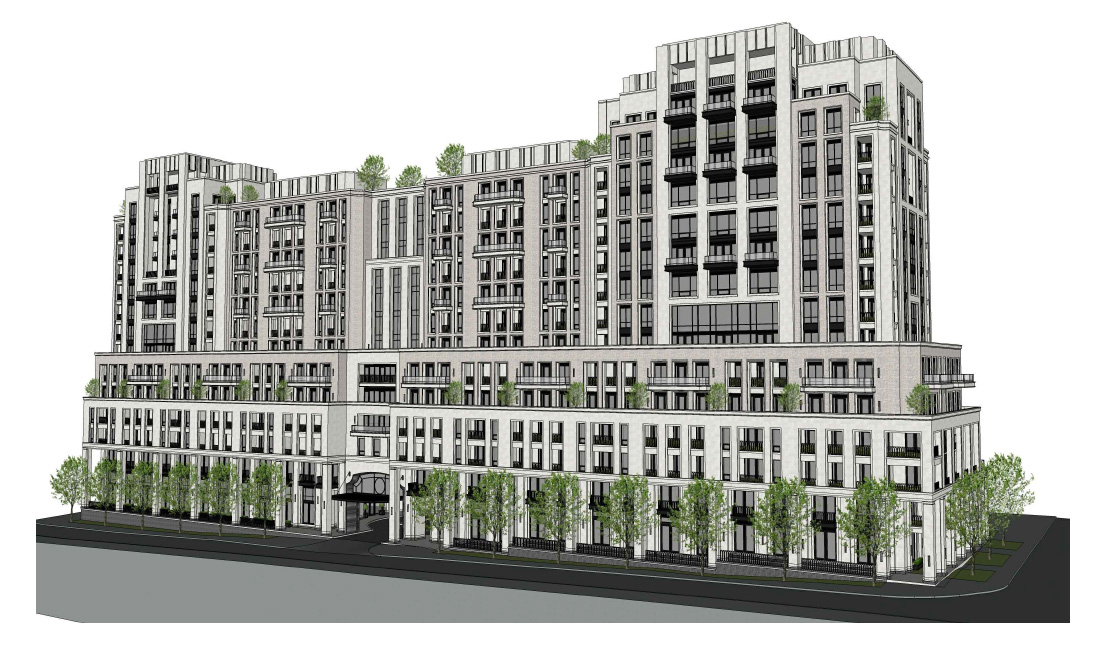 Looking southeast towards 175-195 St Clair Avenue West, image by Richard Wengle Architect Inc
The site is located at the southeast corner of St Clair Avenue West and Poplar Plains Road. It has frontages of 120 metres and 33 metres along St Clair and Poplar Plains, respectively, and is currently home to several buildings: a 2-3 storey stone and brick church occupied by the First Unitarian Congregation, 2- and 3-storey detached dwellings that are now vacant, and a 5-storey residential building with seven units.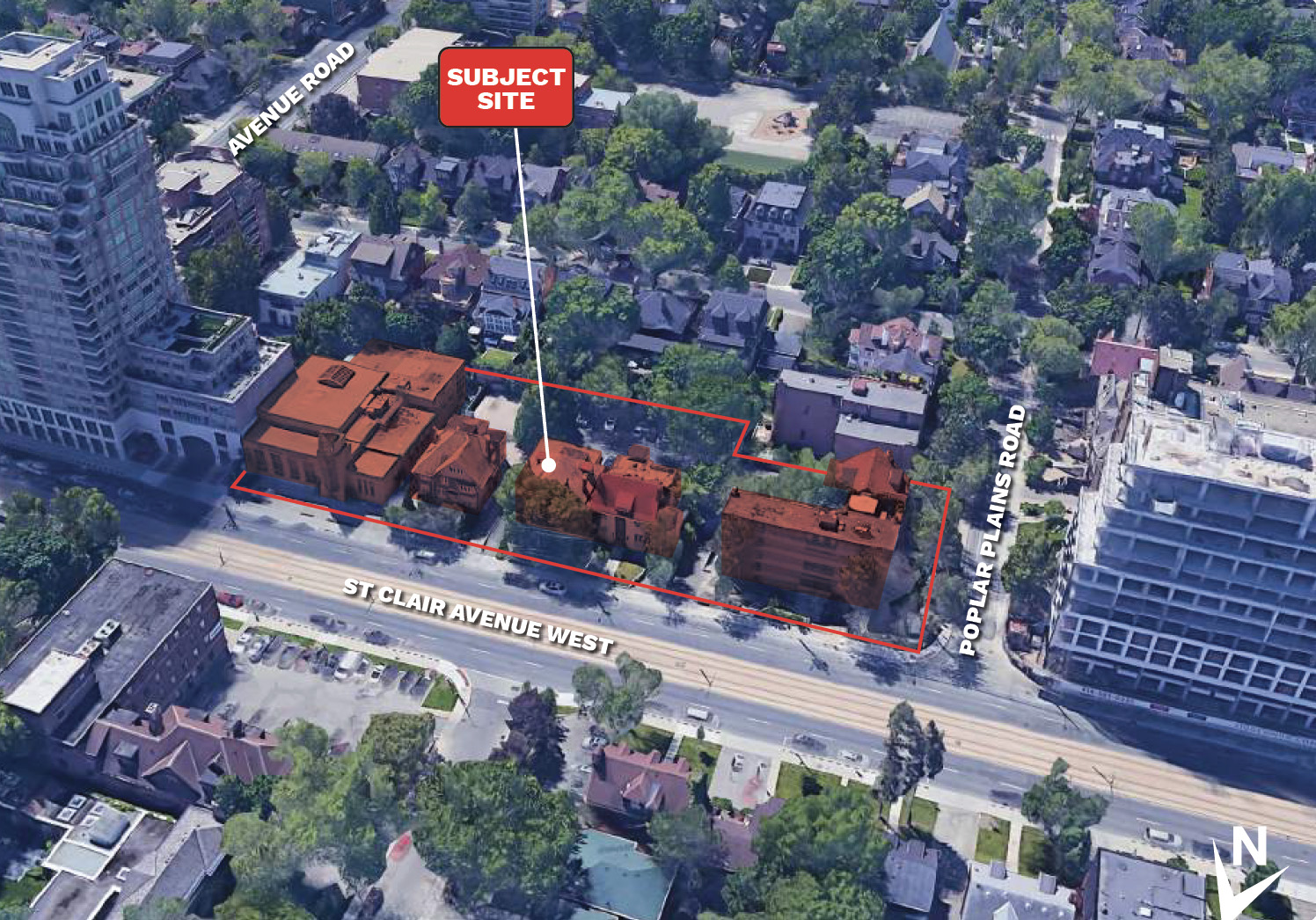 Looking southeast towards the 175-195 St Clair Avenue West site, image by Bousfields Inc.
The developer is looking to redevelop the site with a stepped 13 to 15-storey residential building spanning the entire site, bookended by existing buildings: 19-storey condominium to the east, and 12-storey apartment building to the west.
The new building is designed by Richard Wengle Architect Inc. The majority of the structure is 13 storeys in height, with an additional storey at the east end and an additional two storeys at the west end, articulation which attempts to break up the overall perception of the building's considerable length and give prominence to the corners.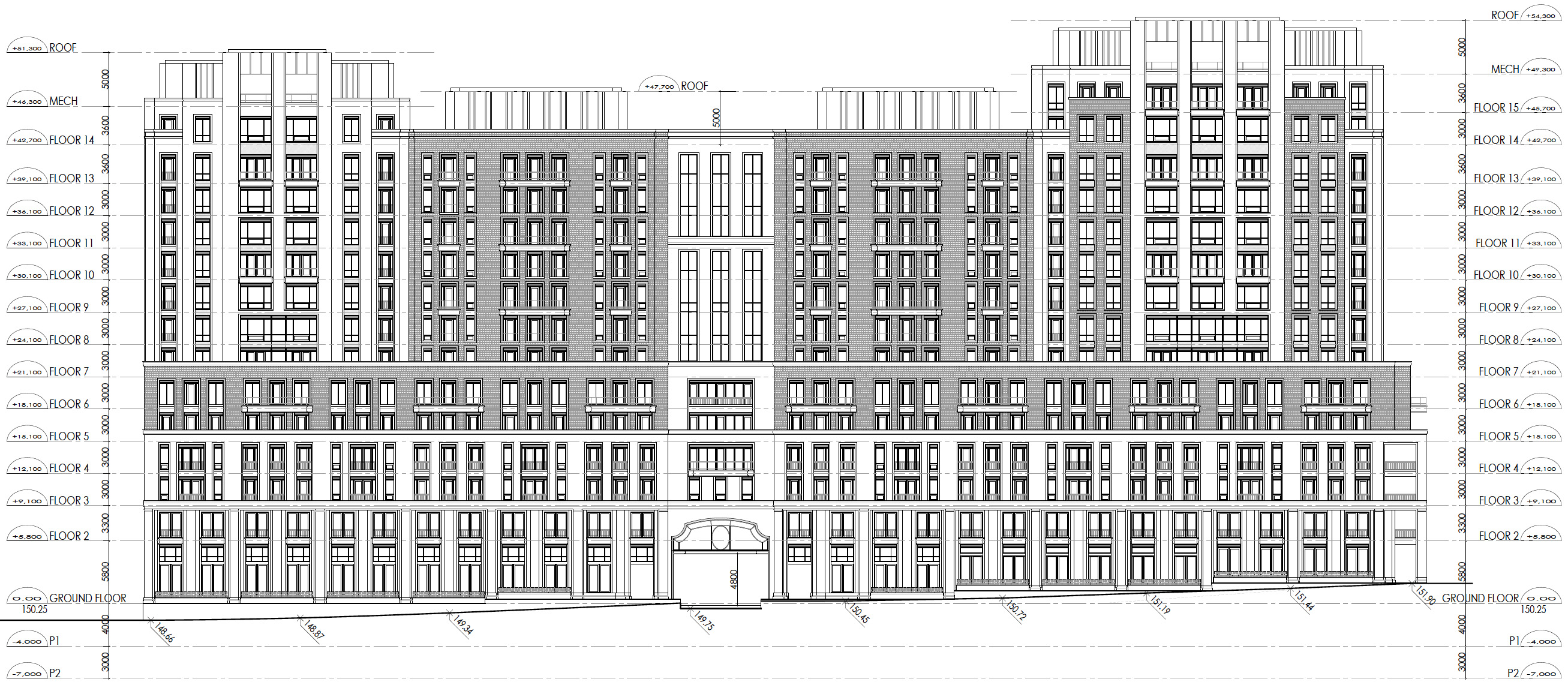 North elevation of 175-195 St Clair W, image by Richard Wengle Architect Inc.
The design provides step-backs at various levels, separation, and landscape treatments in order to transition in scale to the nearby context and mitigate the overlook and privacy impacts to the low-rise neighbourhood lots to the south.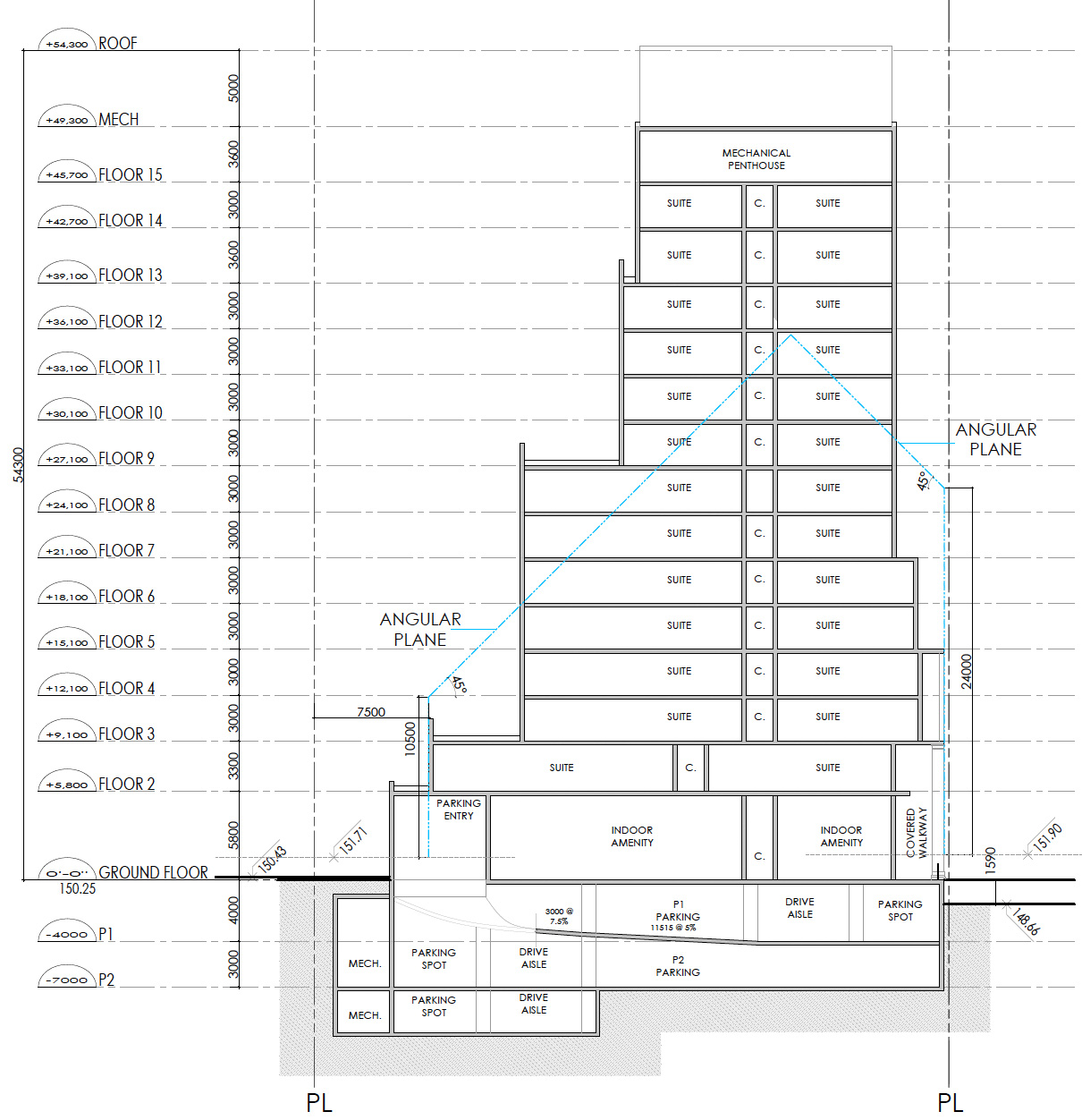 North-South building section of 175-195 St Clair W, image by Richard Wengle Architect Inc.
The proposal consists of 33,705 m² of residential gross floor area, resulting in a density of 7.16 times the area of the lot.
The building's mass along the St Clair frontage is interrupted by a slightly setback vertical notch with a driveway access leading to an internalized roundabout porte cochère within the building's footprint. The roundabout will accommodate curbside drop-off/pick-up of residents and patrons, with a drivecourt providing access to a screened loading/staging area at the rear of the building, as well as to a covered ramp leading to the below-grade garage.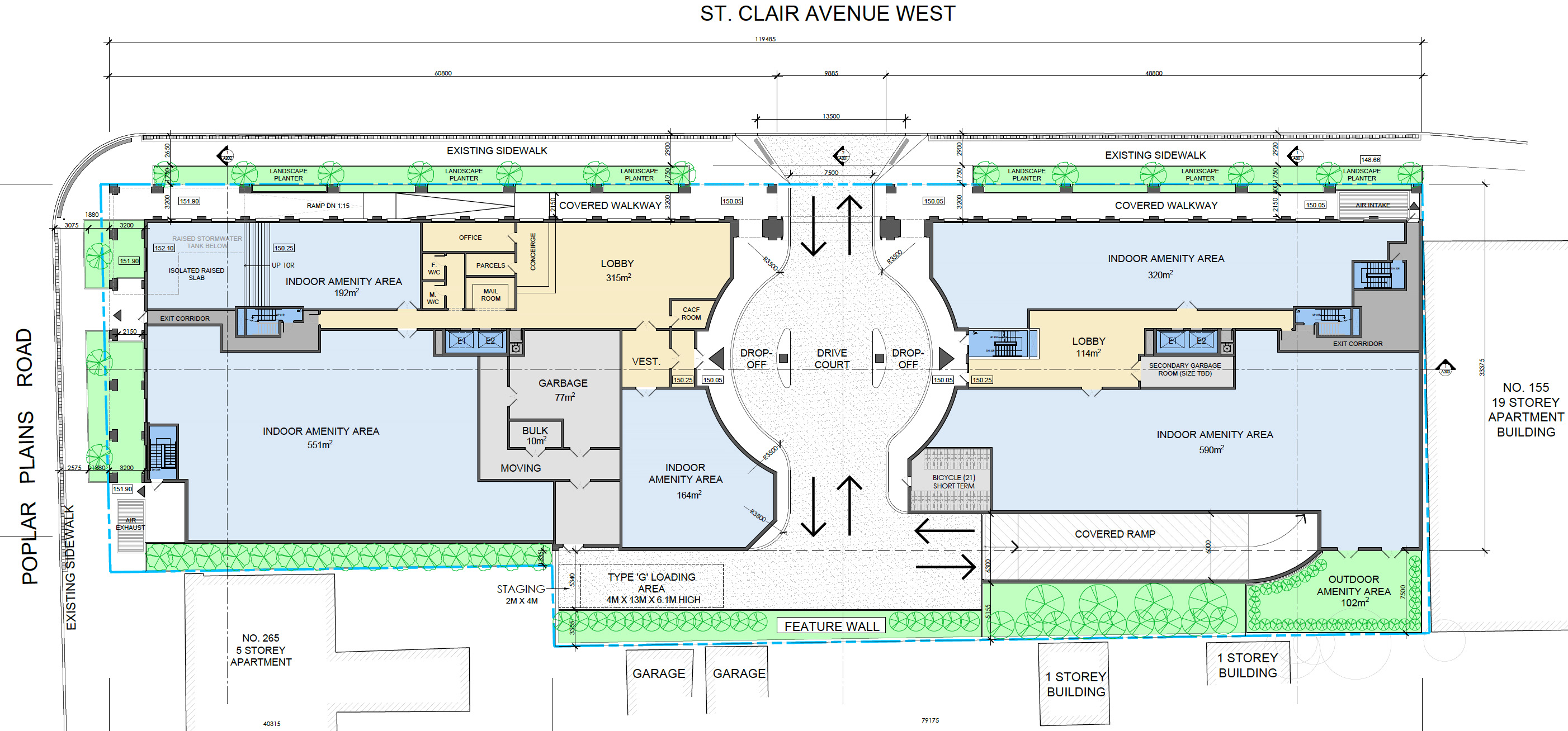 Ground Floor Plan of 175-195 St Clair W, image by Richard Wengle Architect Inc.
The ground floor consists of the primary and secondary residential lobbies, as well as indoor amenity space and a small outdoor amenity space at the southeast corner. The east elevation has no windows and a separation of 22 metres from the adjacent 19-storey tall building.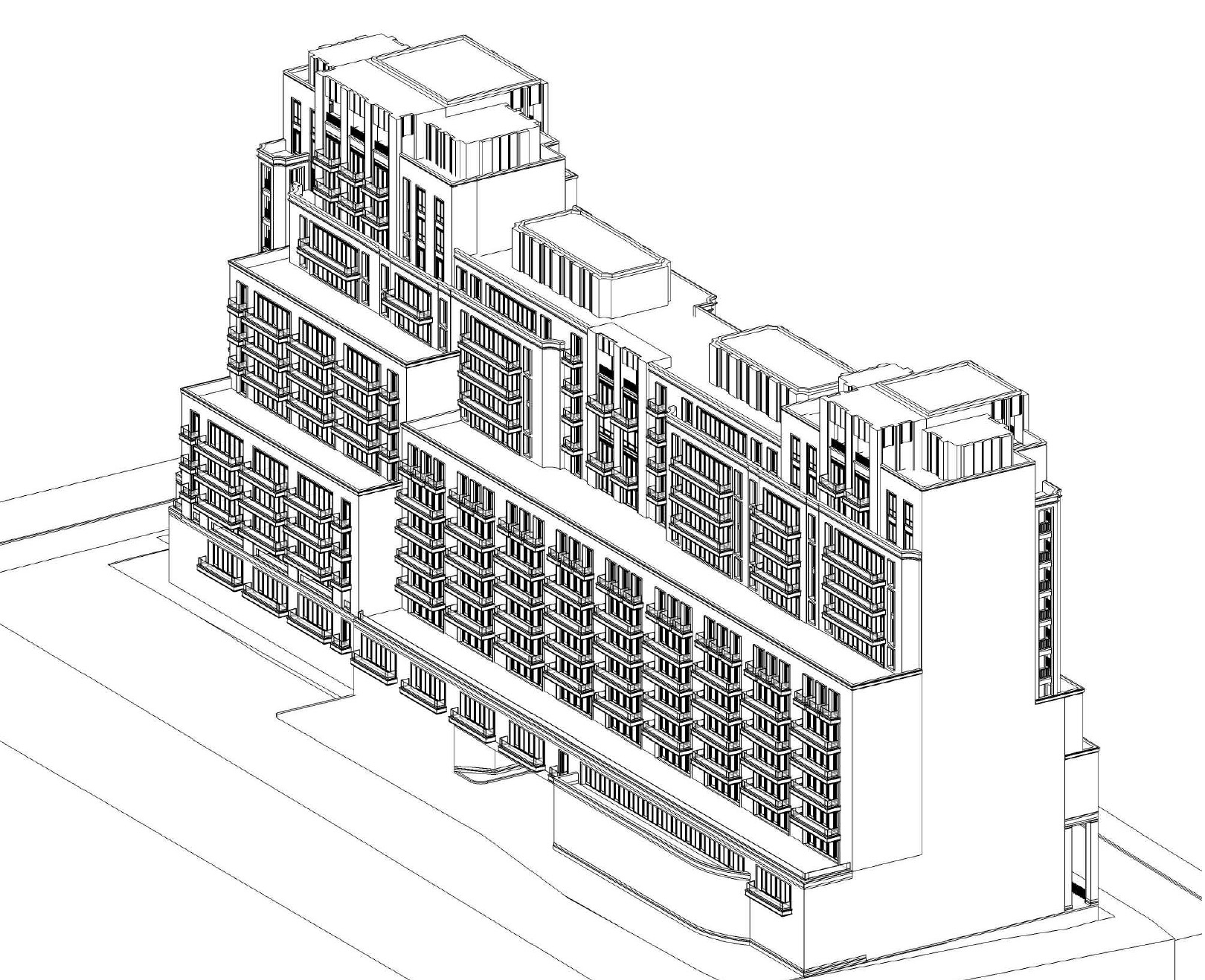 Looking northwest towards 175-195 St Clair W, image by Richard Wengle Architect Inc.
Floor plates narrow in order to support larger balcony areas. The 14th floor supports two separate mechanical penthouse structures that partially enclose a 310 m² outdoor amenity area between the residential wings.
Of the 206 units proposed, the breakdown includes 70 one-bedrooms (34 %), 115 two-bedrooms (56 %) and 21 three-bedrooms (10 %).
The proposal includes 1,882 m² of indoor amenity space, largely on the ground level of the building, and the remainder located on the 13th level.
A total of 247 vehicular parking spaces is provided on two levels of underground parking, as well as 207 bicycle spaces.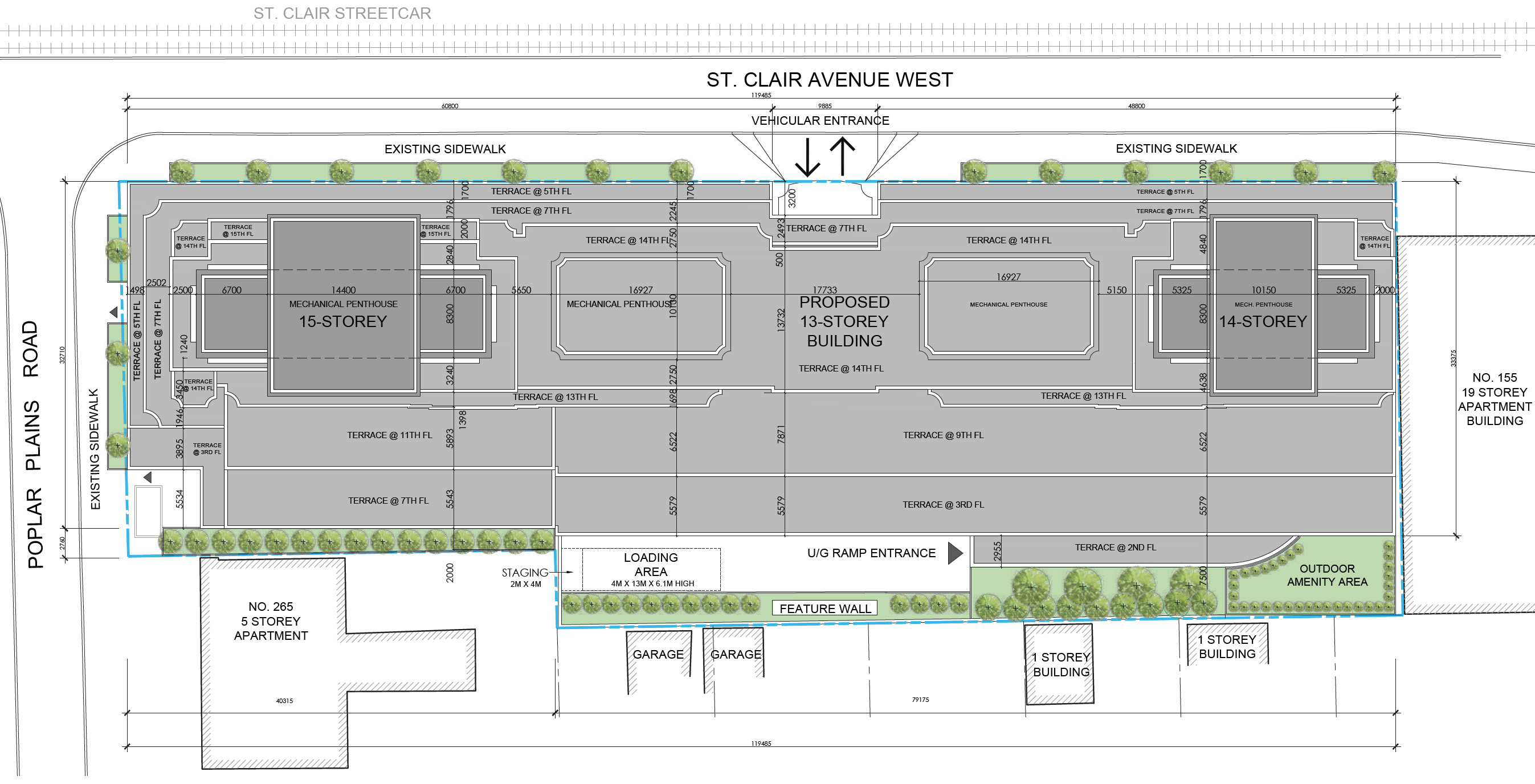 Site Plan, 175-195 St Clair W, image by Richard Wengle Architect Inc.
You can learn more from our Database file for the project, linked below. If you'd like to, you can join in on the conversation in the associated Project Forum thread, or leave a comment in the space provided on this page.
* * *
UrbanToronto has a new way you can track projects through the planning process on a daily basis. Sign up for a free trial of our New Development Insider here.