A Site Plan Approval application has been submitted to the City of Toronto for a 2.1 hectare site located at 3450 Dufferin Street, across from Yorkdale Shopping Centre. Fitzrovia Real Estate is seeking to develop a three-tower comprehensive mixed-use complex which would contain residential, daycare, parkland, and commercial restaurant uses. UrbanToronto last covered a redevelopment proposal on this site in September, 2019.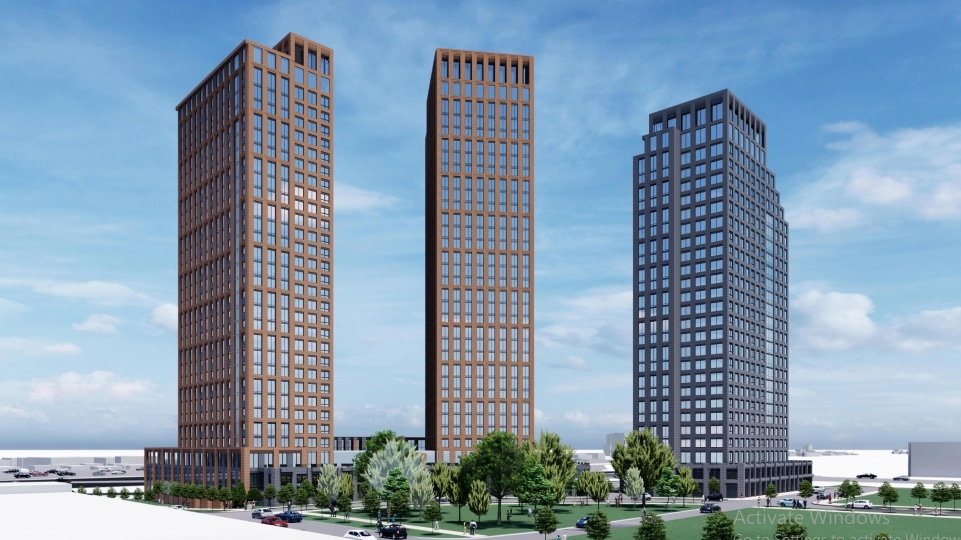 Looking northeast towards the 3450 Dufferin redevelopment, image by IBI Group
The site is currently occupied by a 12-storey Holiday Inn hotel with associated parking. The immediate surroundings include large single-storey industrial building to the west, a Honda Dealership to the south, Yorkdale Shopping Centre to the east, and Highway 401 to the north.
3450 Dufferin site east of Yorkdale Shopping Centre, image by Bousfields Inc.
The proposed mixed-use development consists of three IBI Group-designed towers that are 24 storeys/75.1 metres, 30 storeys/93.4 metres, and 28 storeys/87.5 metres. The previous submission included towers of 27 storeys/97.5 metres, 29 storeys/103.4 metres, and 23 storeys/79.65 metres.
North Elevation of 3450 Dufferin, image by IBI Group
The two taller towers are connected by podium and mid-rise building elements with townhouse units in the base. The towers are oriented along the curvature of the MTO off-ramp. The buildings transition down in height to the southwest, towards a new stratified park. A new network of public roads, publicly accessible private roadways, and internal driveways is proposed.
A total gross floor area (GFA) of 63,501 m² is contemplated, of which 520 m² would be retail space at the 1st floor. An additional 884 m² would be for a proposed daycare. The lot coverage of 32.18% and the resulting density is 3.1.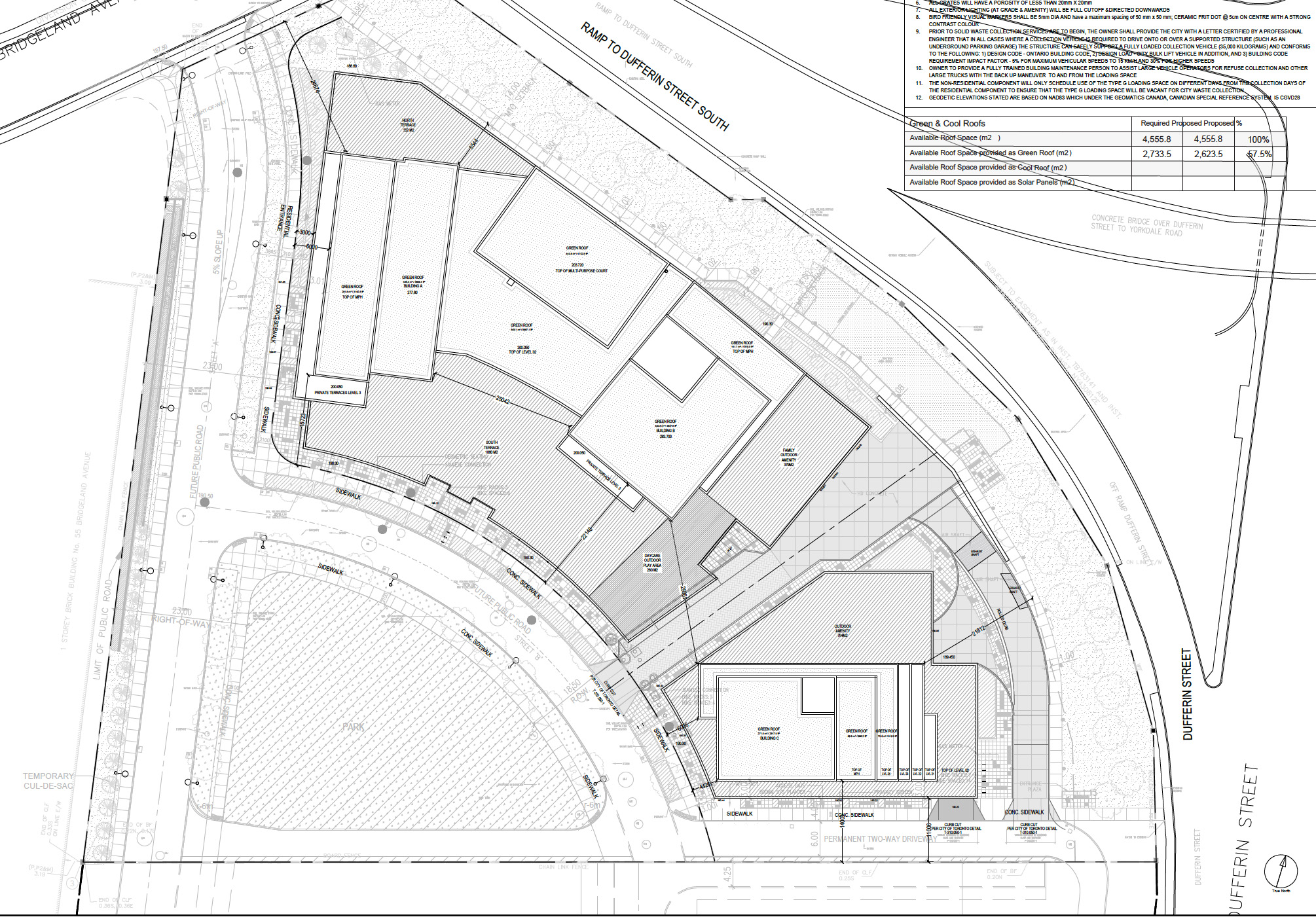 3450 Dufferin site plan, image by IBI Group
The development would bring a total of 766 residential units compared to the 908 units in the previous submission. There are no balconies in this development. The second level would be dedicated to amenity spaces including a gym, wellness centre, party room, and contiguous exterior terraces.
Three levels of underground parking provide 731 parking stalls. A total of 693 bicycling parking spaces are provided on the 1st floor of the building.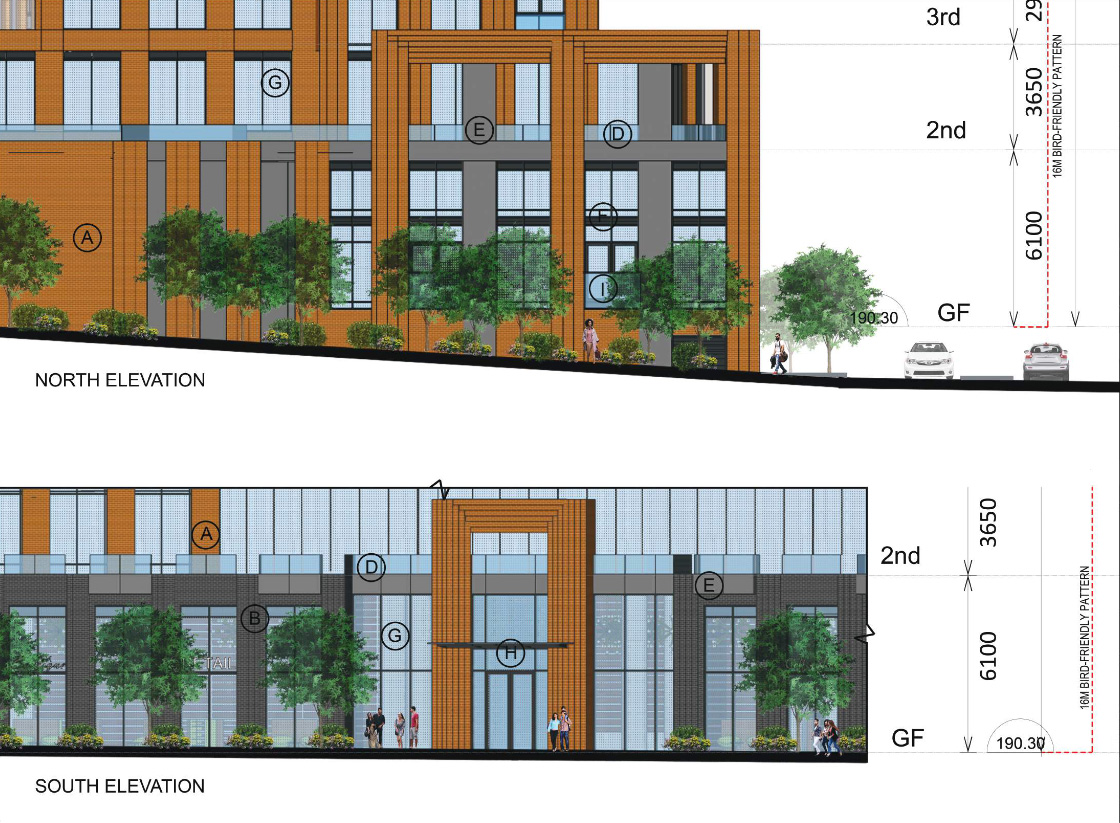 South and East elevation details showing two colours of brick, metal panel, louvers and vision glass, image by IBI Group
You can learn more from our Database file for the project, linked below. If you'd like to, you can join in on the conversation in the associated Project Forum thread, or leave a comment in the space provided on this page.
* * *
UrbanToronto has a new way you can track projects through the planning process on a daily basis. Sign up for a free trial of our New Development Insider here.