The City of Toronto's Community Benefits Framework was adopted by Council in 2019, seeking to leverage options including procurement, real estate transactions, or financial incentives in an aim to remove inclusivity barriers and create equitable economic workforce opportunities for communities where projects are in planning. Still in its development and testing stage, the Framework is guided by three principles, seeking to promote social and economic inclusion, engage and involve the community, and achieve accountability. With a handful of current Community Benefits initiatives that promote equity hiring, the program is a highly-visible step in creating more opportunity and inclusivity that accurately reflects Toronto's bedrock ethos of diversity. Most recently on February 2nd, Council adopted committee recommendations for Advancing the Community Benefits Framework.
Since the Framework's inception, the world around it has changed considerably. A global pandemic and its echo of unprecedented economic ramifications have hit Toronto hard. A perfect storm of increased spending for economy-boosting infrastructure and capital projects, the overwhelming demand for an already thinly-stretched skilled labour workforce, and most troublingly, the pandemic's disproportionate effect on local racialized communities are all begging the question: can more be done to meet workforce demand and bring more equity to construction?
A number of existing initiatives are already in place, using the City's leverage and assets to build community benefits and opportunities. Some examples include the Housing Now Initiative, the Social Procurement Policy and Program, Rexdale—Casino Woodbine Community Benefits Agreement, and the Imagination, Manufacturing, Innovation and Technology Program. While these initiatives have spurred job creation including strides towards equitable hiring, implementing project-specific hard targets like 40% set out by the Rexdale-Casino Woodbine Community Benefits Agreement, no framework-wide hard targets have been mandated for equity hiring.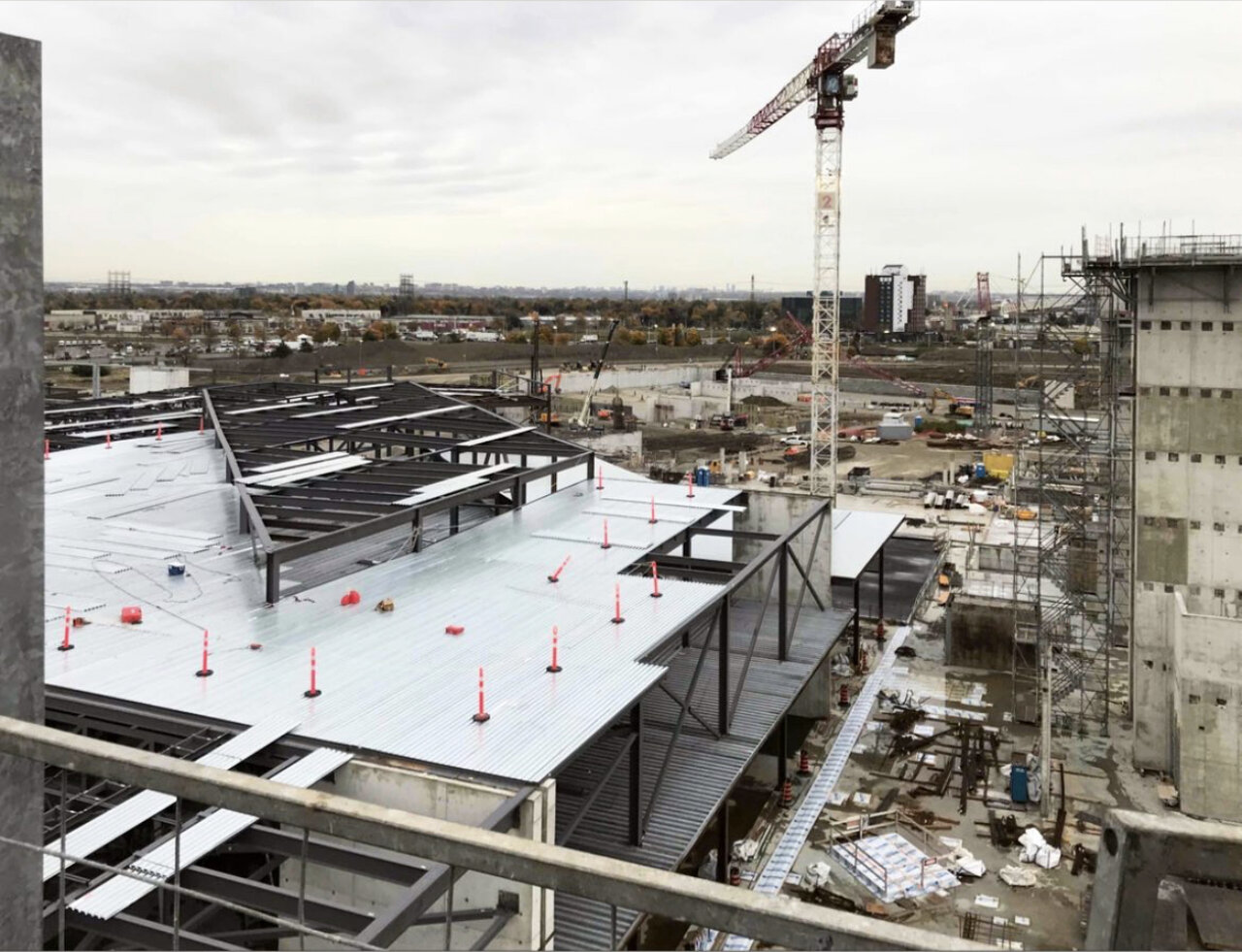 December, 2020 progress at Woodbine Live, image via CGL Architects
While the recent Council adoption marks a step forward for the Framework, many voices from community organizations and labour unions are championing calls for the implementation of new firm hiring targets, with the loudest and most organized campaigning coming from the Toronto Community Benefits Network (TCBN). TCBN is pushing for the City to set a 10% minimum hard target for equity hiring in construction on all large scale capital projects, and for the TCBN to be designated as a key strategic City partner to support the negotiations, implementation, monitoring and evaluation functions of the City's Community Benefits Framework.
Toronto's Deputy Mayor Michael Thompson, Chair, Economic & Community Development, told us that "Toronto's ongoing seismic shift in population demographics is not yet fully reflected in its workforce, especially in skilled trades. Encouraging equity hiring practices in all sectors of the economy is not only necessary to remedy historic inequities, but it is also essential to ensure that our supply of skilled labour meets growing demand."
These calls are being supported by a long list of grantmakers, research and policy advocates, community organizations, private stakeholders, as well as contractor associations and labour unions. Among the latter camp, the Carpenters Union Local 27 has been a vocal supporter of the Community Benefits program, which is seen as another important means in expanding a construction workforce seeing more local demand than ever.
Mike Yorke, President of the Carpenters District Council of Ontario, told us that "removing these barriers to inclusivity is a fundamental step in developing the next generation of much-needed workers in this growing industry. Our industry is seeing a lot of retirement, and we want to work towards this goal of a more socially-equitable industry while bolstering our workforce's numbers."
Rosemarie Powell, TCBN Executive Director, stated to us, "TCBN is proud to work with our community, labour and industry partners, especially with the Carpenters Union Local 27 who rose to the occasion during Covid-19 to intake and hire more than 100 candidates from our NexGen Builders Mentoring Program on various projects across the City like the Metrolinx Eglinton Crosstown and Finch West LRT projects, West Park Healthcare Centre Redevelopment, York University Continuing Education Facility among others."
Hurdles remain in place towards implementing universal hard targets for hiring, such as the need for infrastructure supporting the framework. This added back-end infrastructure being sought by the City, TCBN and other groups—which would include tools to connects employers, job seekers, employment agencies, and unions—would help to guide the implementation of current and future community benefits initiatives.
The council adoption includes a recommendation that a progress update on the design and pilot testing of the Community Benefits Framework implementation models, as well as a proposed approach to prioritize community benefits projects and initiatives to be supported and implemented by the Community Benefits Framework be submitted to the City's Economic and Community Development Committee in the third quarter of 2022.
* * *
UrbanToronto has a new way you can track projects through the planning process on a daily basis. Sign up for a free trial of our New Development Insider here.