Tridel is continuing through Toronto's planning approvals process on its path to redevelop a site at Dupont and Shaw streets, replacing a sprawling Sobeys supermarket and parking lot with a sizeable mixed-use building. In December 2020, it submitted a revised Site Plan Approval application (SPA) for 840 Dupont Street, just east of Ossington.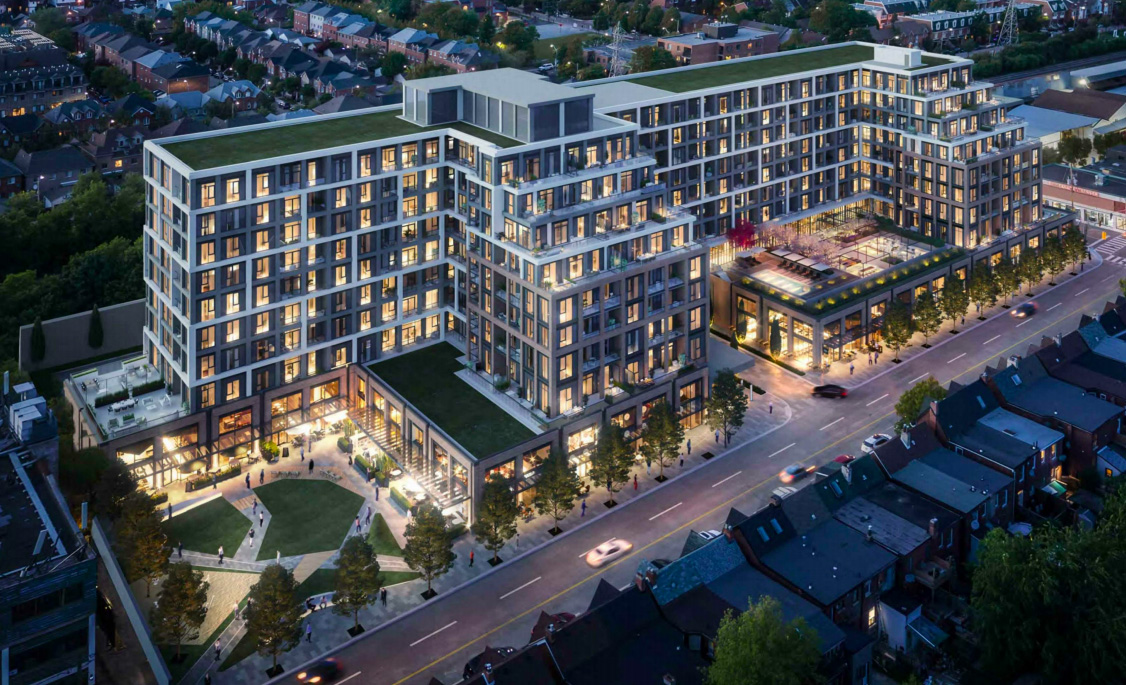 Aerial view looking North-East. Image by Turner Fleischer Architects Inc.
The Ontario Municipal Board had previously approved a settlement of the 840 and 860 Dupont Street applications (Official Plan Amendment and Zoning By-law Amendment), issuing its decision in February, 2017, allowing for a 9-storey development including office, retail, and residential uses from the original proposal. Subsequent SPA re-submissions reflected the zoning from the approved settlement, but since then, the site ownership has changed and the second-floor proposed grocery store has been replaced with residential units.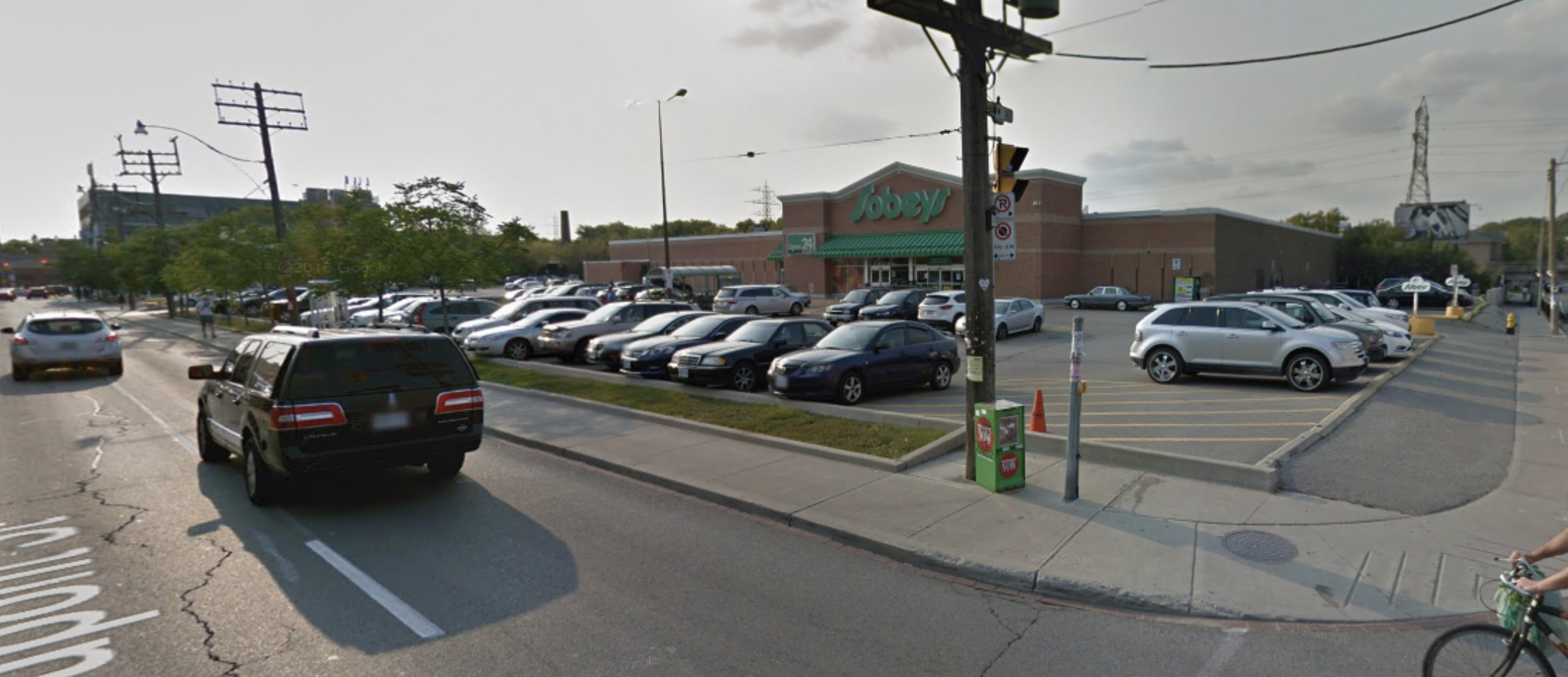 The site as it appeared in mid-2015 Image retrieved by Googlemaps.
The new development proposal continues to call for a 9-storey mixed-use building designed by Turner Fleischer Architects. It has ground-level retail spaces and 330 residential units above.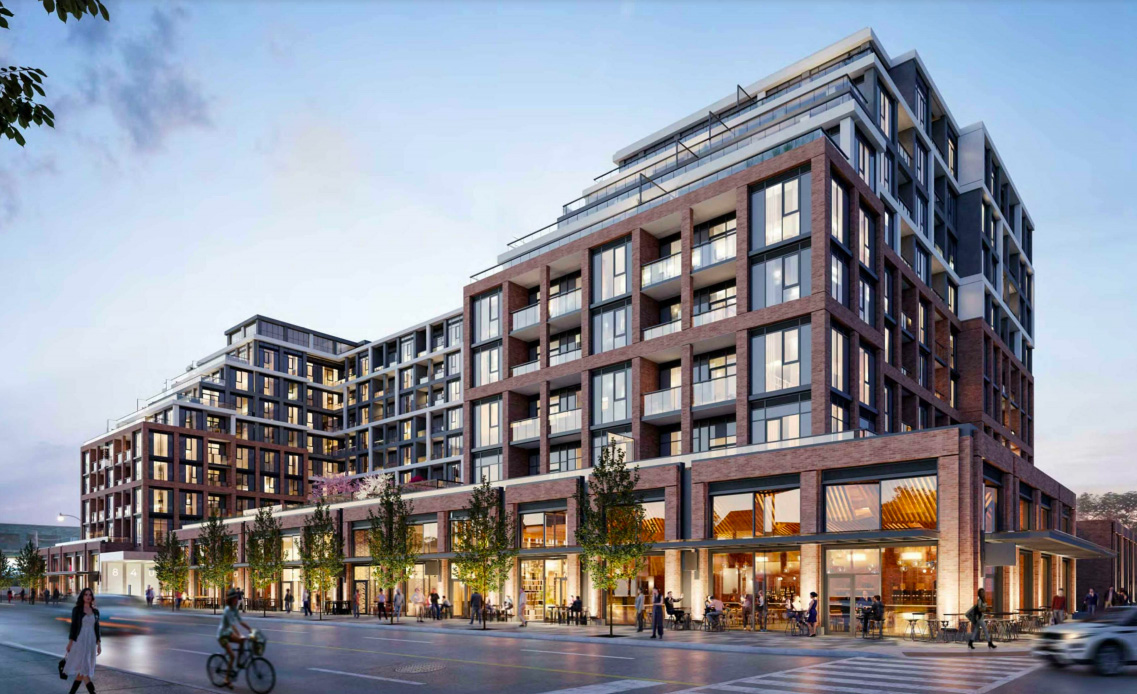 Rendering of proposed development, looking at the North-West corner on Dupont Street. Image by Turner Fleischer Architects Inc.
The December, 2020 resubmission revisions include minor technical and design changes to address City Staff and community comments. For example, local residents had identified the desire and need for small/micro retail spaces along the Dupont corridor. The new design incorporates retail spaces that are smaller than those originally proposed.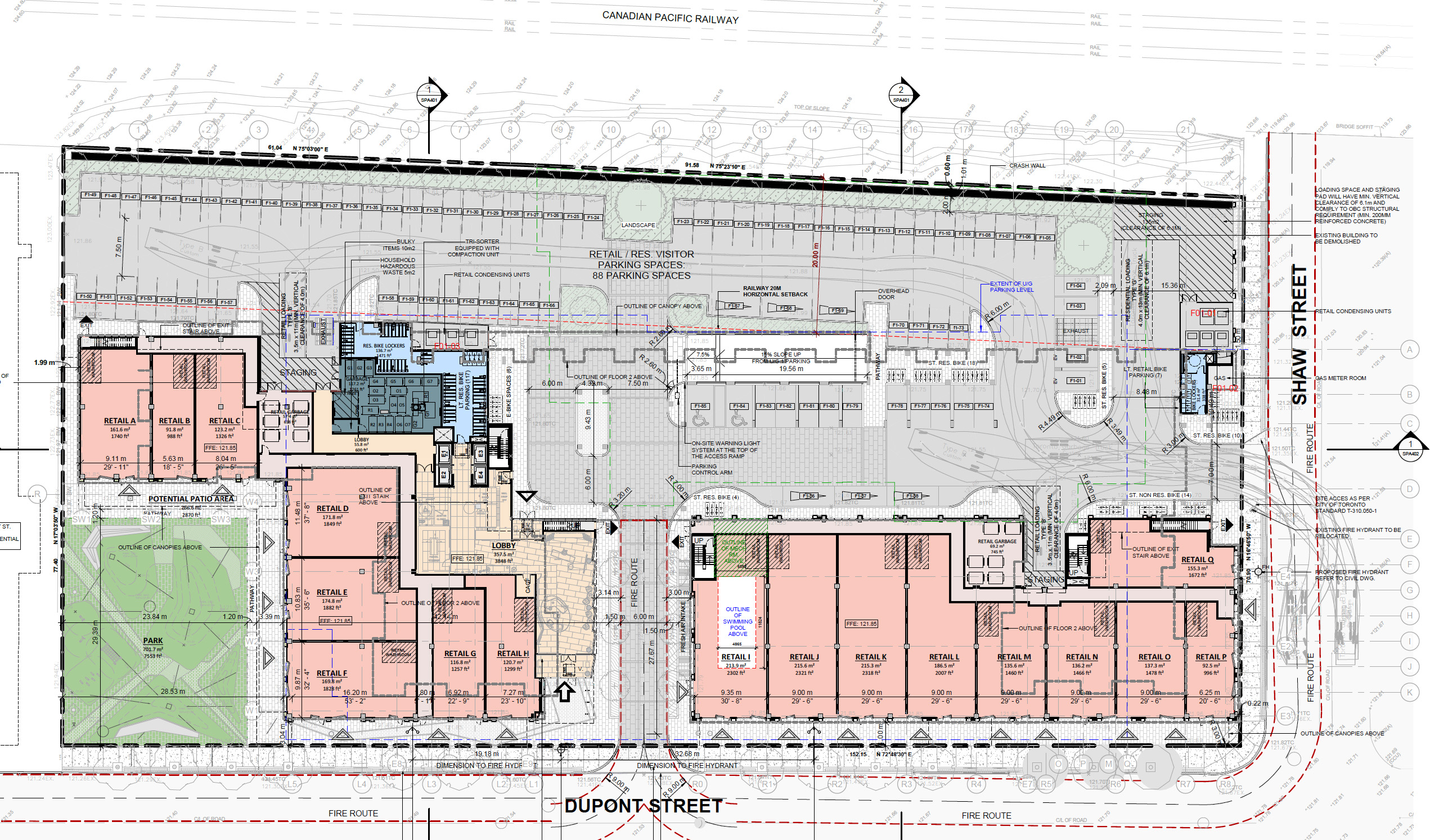 Ground Floor Plan. Image by Turner Fleischer Architects Inc.
A comparison of some of the key stats between the settlement and the November, 2020 design:
Proposed retail Gross Floor Area (GFA) is 3,167m² (compared to 8,664m² in 2016),
Proposed residential GFA is 26,221m² (compared to 25,808m² in 2016),
Total proposed GFA is 29,288m² (compared to 34,532m² in 2016),
Overall Floor Space Index is 2.59 (compared to 3.05 in 2016)
Parking is 389 spaces (compared to 591 in 2016)
The unit count remains almost exactly the same, at 330 (331 in 2016), with tweaks in the breakdown: 173 one-bedroom (vs 214 in 2016), 121 two-bedroom (vs 84 in 2016), and 37 three-bedroom (vs 33 in 2016). Indoor amenity space is 736 m² (vs 722 m² in 2016); outdoor amenity space is 677 m² (vs 662 m² in 2016).
The exterior material palette includes grey and maroon brick, white and grey precast concrete, grey spandrel glass.
On-site parkland, situated at the southwest corner of the site, is 701 m² (700 m² in 2016).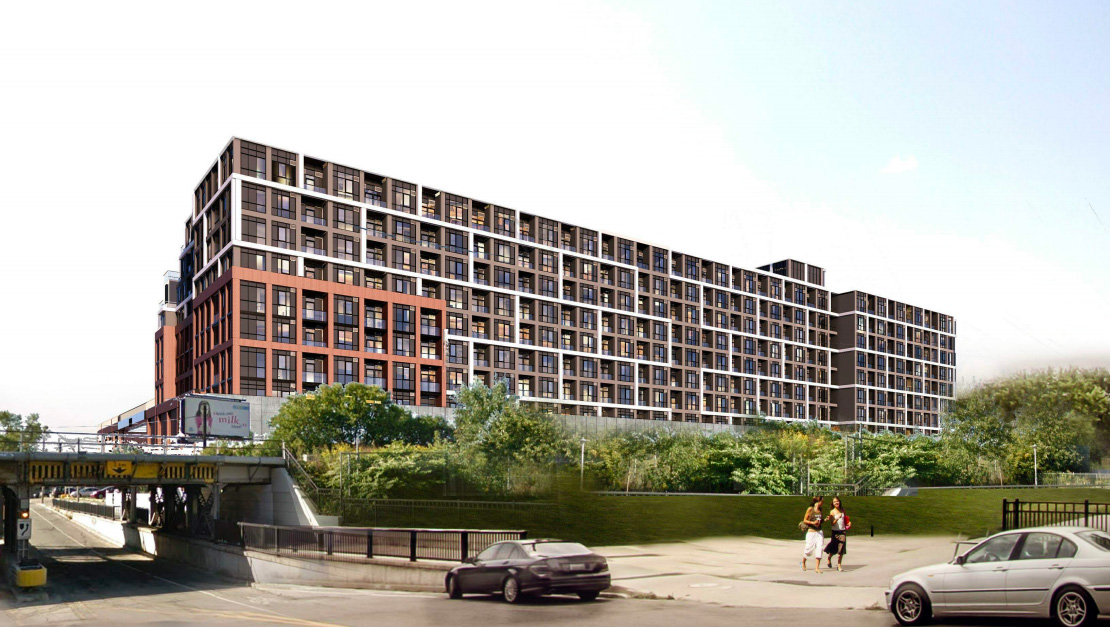 View on Shaw Street looking South-West. Image by Turner Fleischer Architects Inc.
You can learn more from our Database file for the project, linked below. If you'd like to, you can join in on the conversation in the associated Project Forum thread, or leave a comment in the space provided on this page.
* * *
UrbanToronto has a new way you can track projects through the planning process on a daily basis. Sign up for a free trial of our New Development Insider here.